Quick Comparison Table
5 Top Rated Sewing Machine Under $50 Reviews
1
Imax LSS-202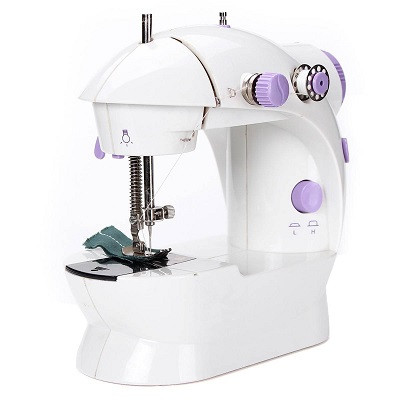 Pros:
The iMax mini machine facilitates starting via the hand switch or the foot pedal. The machine is already threaded when shipped and is easy to store in confined storage areas like craft boxes and sewing cupboards.
Cons:

Some users have found the iMax LSS -202 machines to be very noisy.
Another concern is that there is no reverse function.
Although the machine comes with a detailed instruction manual, the threading instructions are reputedly vague. Users are advised to note the threading when the machine is unpacked, for future reference.
Shipping weight – 2 pounds, of which actual product weight is around 1.46 pounds.

1 x iMax Mini Sewing Machine.
4 x Bobbins.
1 x Foot Pedal.
1 x AC Adapter.
1 x Needle.
1 x Threader.
1 x Thread bag.
Q
Is the iMax Mini Sewing Machine suitable for use by children?
A
Adults are urged to assess the maturity and capabilities of children before allowing unsupervised use by children. However, children who are responsible should enjoy hours of creativity from this product.
---
Q
Does this machine have a light?
A
Yes, and in a recent user review, a satisfied customer commended the position of the light that avoids the creation of shadows over work areas.
---
Q
Can this machine do zig zag stitching?
A
No, unfortunately not.
Gone are the days when sewing machines were only marketed to women. Today, men are increasingly taking an interest in sewing their own creations, from clothes and design items, to practical articles.
Given this growing market, and the diverse applications sewing machines are used for, the portability of sewing machines has become important.
The iMax LSS-202 Mini 2-Speed Sewing Machine has found its niche as a surprisingly versatile machine that is compact and highly cost-effective at a cost of under $50.
The iMax mini sewing machine features two speeds, double thread and according to a reputable review, perfect stitch control. There is an automatic thread rewind function and one of the best features of the machine is the top drop-in bobbin. The machine utilizes DC 6V as well as battery power.
Design
iMax's top rated mini sewing machine owes its portability in part to its compact dimensions of 9 x 8.3"x 5.3 inches. It is designed for sewing light to medium weight fabrics. In more than one buying guide mention is made of its suitability for mending projects, as well as the creation of garments and medium sized items. One of the innovative design aspects is the inclusion of a top spindle which can easily carry larger cotton spools.
Material
This mini sewing machine's outer casing is made from durable, lightweight white plastic, with metal working parts. The purple plastic trims and buttons give the machine visual appeal.
Where to Buy
Diamondorganics.com has availability of the Imax mini sewing machine at $24.95 plus shipping costs. Amazon matches this selling price of $24.95 for the same product, but as always, saves consumers because shipping is included while stocks last.
2
Michley LSS-505
Pros:
This sewing machine is top rated in many reviews and there are several helpful YouTube videos to guide users. The Michley LSS – 505 is suitable for use by crafters, sewing enthusiasts, and even campers have reported finding it useful for minor repairs on clothing and kit.
Another plus is that the tension can be manually adjusted via a dial on the front of the machine. Users will also be pleasantly surprised to discover the twin needle capacity.
Last, but by no means least, this sewing machine is considered a 'no-oil machine', making it completely hassle-free when it comes to maintenance.
Cons:

This machine is best suited to sewing light to medium weight fabrics.
There is no button hole function and the machine only comes with one presser foot.
One other con is that there are no seam guides on the needle plate.
Shipping weight: 6 Pounds.
1 x Michley LSS – 505 Lil' Sew & Sew Sewing Machine.
2 x Thread spools.
2 x Metal Bobbins.
1 x Needle.
1 x Threader.
1 x Foot pedal.
1 x AC adapter.
Q
Can I use this machine to sew a new pair of denim jeans?
A
While the Michley LSS -505 machine could easily sew a denim hem, it would not be suitable for an entire project using such heavy material.
---
Q
Does this machine need special needles?
A
No, it accommodates all standard sewing machine needles.
---
Q
Does this machine run on batteries?
A
Yes, it uses 4 AA batteries as an alternative to electricity.
If you are looking for a compact, lightweight multi-function sewing machine that will be easy to use, easy to store and easy to afford, look no further.
Chances are good that you will be blown away by the Lil' Sew & Sew, and its availability at under $50.
This impressive sewing machine boasts eight built-in stitch patterns. A recent buying guide reported that the stitches had been tested and found to work as advertised.
Other features that are standard in larger models have also been included, such as two speed settings, double thread, forward and reverse sewing and automatic thread rewind.
The Lil' Sew & Sew also has a thread cutter, a drawer for tools and bobbins, and a thread bag.
Design
With dimensions of 10.8 x 4.8 x 10.2 inches, the Lil' Sew & Sew is designed as a compact sewing machine that meets the needs of beginner to intermediary sewing enthusiasts. The well-placed LED sewing light is just one of the innovative design aspects.
Material
The Michley LSS – 505 is made of good quality materials that come with a repair or replace warranty. The outer body is made of lightweight white plastic, as are the dials and buttons.
Where to Buy
Wayfair.com has the Michley LSS – 505 Sewing machine on offer at $49.99, including shipping. Amazon rightly thinks you should pay only $45.73 and they have also thrown in free shipping as a bonus while stocks last.
3
Singer ZigZag
Pros:
The machine has a clever little pink measuring ruler along the base of the machine as well as a small storage compartment.
Cons:

One common observation in almost every user review is that the machine is very difficult, if not impossible for children to thread unsupervised.
Shipping weight: 2 Pounds.
1 x Singer Zig-Zag Chain Stitch Toy Sewing Machine A2207.
1 x Plastic Needle.
1 x Foot pedal.
1 x Fabric kit with – 2 x pieces of material for a bookmark, a ribbon and 2 x appliques.
1 x Needle Threader.
3 x Spools of thread.
1 x Measuring Tape.
1 x Operators Booklet with Project Instructions.
Q
Can the needles be removed and/ or replaced.
A
Yes – being a toy, some people prefer to remove the needle for small children. However, the plastic needles can be replaced when broken.
---
Q
What batteries are needed to run this toy?
A
It is powered by 4 AA Batteries.
Almost every little girl has at some stage dreamed of owning her own sewing machine. For most, the experience leads to multiple upgrades over the course of a lifetime, and many satisfying and hopefully useful creations.
One of the most trusted names in the sewing machine industry, Singer's A2207 Toy Sewing Machine makes provision for small sewing enthusiasts.
Singer's A2207 Toy machine is available for under $50. They make no assertions that it is anything but a toy. Even so, they have built innovative transparent protective covers over the needle and thread reel housings for improved safety.
The on – off switch is very accessible on the face of the machine, and there is a hand wheel for guiding the stitching mechanism. The Singer A2207 toy sewing machine has two stitches – chain stitch and zig zag, and the thread tension can be adjusted from the tension dial on the machine face.
Design
At the risk of sounding cheesy, the Singer A2207 looks adorable. Cute pink floral motifs decorate the lightweight white plastic outer body of the machine.
The machine is highly portable and has a pink handle to make it easy to carry. The machine's dimensions are 12 x 4.5 x 9 inches and it is designed for sewing lightweight materials and paper crafts.
The machine's packaging carries a warning that children under the age of three should not have access to the product. A trusted buying guide recommends it for children eight years and up.
Material
Top-rated brand Singer's industry experience is evident in their choice of materials. Their use of a strong plastic has gone a long way to making their product safe, durable and cost-effective.
Where to Buy
Walmart stocks the Singer A2207 for $55.69. Amazon offers consumers a massive saving at $40.99. This is a fun toy that encourages children to explore their creativity and who knows it might just stimulate the next best designer of the future!
4
Easy Stitcher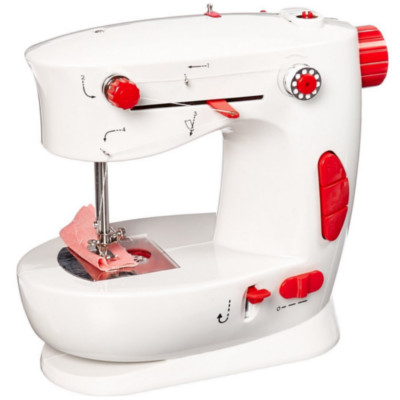 Pros:
The Easy Stitcher is perfect for mending, household projects, crafts and scrapbooking. It comes pre-threaded to get you sewing as soon as your machine arrives. This is often helpful for beginners to see the machine's correct threading firsthand. The machine runs on 4 AA batteries or using an adapter.
Cons:

Several customers complained that they had bobbin issues which resulted in bunching thread. In one buying guide, there was a suggestion that careful threading and use of good quality thread will alleviate this.
Shipping weight: 3 Pounds.
1 x Easy Stitcher Table Top Sewing Machine.
1 x AC Adapter.
2 x Metal Bobbins.
2 x Reels of Thread.
1 x Spare Needle.
1 x Needle Threader.
1 x Comprehensive User's Manual.
Q
Where can I buy replacement needles for this machine?
A
Standard sewing machine needles will fit, and are freely available.
---
Q
Is this machine suitable for quilting?
A
No, it is not designed for heavy duty projects and it would be best to use a bigger machine instead.
---
Q
Is this machine suitable for a child?
A
More than one user review considers the machine ideal for a responsible child to use under adult supervision.
New sewing enthusiasts often express a desire to own a small, unintimidating sewing machine. The benefits of first owning a small machine include low financial risk, basic sewing functions for quick learning and portability.
The Easy Stitcher Table Top Machine is not only great for beginners, but accomplished sewers have also confessed loving the convenience of owning a small machine for quick projects. At under $50 it makes perfect 'cents'.
The practical horizontal drop-in bobbin is very convenient to use. The innovative transparent cover allows the operator to see if there is a problem without opening the bobbin compartment first.
The Easy Stitcher has two speeds and reverse sewing is included, which is helpful for strengthening seams and finishing projects off neatly. Just as useful, is the stitch length adjustment feature, which gives users the ability to regulate the strength and appearance of their stitches.
Another useful feature is the easy to use bobbin winder. This sewing machine also has a light, that can be independently controlled to suit user preferences.
Design
Just as one would expect from a small sewing machine, the Easy Stitcher's dimensions of 12.6 x 5.5 x 10 Inches make it easy to store and transport. Made primarily from a durable, easy to clean white plastic, the machine is lightweight. The bright red dials, buttons, and trims make it 'pop' and it is an attractive addition to any sewing or craft room.
Material
The materials and finishes on the Easy Stitcher are consistent with a sewing machine in this price category, and most user reviews confirm satisfaction for the price.
Where to Buy
You can get your Easy Stitcher Table Top Sewing Machine from michaels.com for $39.99. However, as you have likely come to expect, top rated Amazon has gone the extra mile to make this sewing machine available to customers at just $36.17.
5