Quick Comparison Table
| | BROTHER | JANOME | SINGER | BROTHER | BROTHER |
| --- | --- | --- | --- | --- | --- |
| | | | | | |
| Price | $ | $ | $ | $ | $ |
| Warranty | 25-year limited warranty. | 25-year limited warranty. | 25-year limited warranty. | 25-year limited warranty. | 25-year limited warranty. |
| Stitches | 294 built-in stitches | 12 built-in stitches | 23 built-in stitches | 27 unique built-in stitches | 130 built-in stitches |
| Amazon FREE Shipping | | | | | |
| | | | | | |
5 Top Rated Sewing Machine Reviews
1
Brother PC420PRW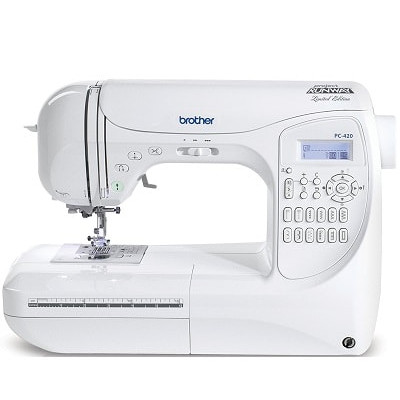 Pros:
One of the biggest benefits of choosing this Brother model over any other machine is the sheer amount of stitches you will be able to choose from. With 294 in your back pocket, you can complete all the ordinary tasks as well as having fun with a number of different materials. As well as 67 utility stitches, you will also benefit from 31 decorative stitches which is more than most others you will find.
Also with this product, you will receive a whole host of accessories which means that you will have everything you need to use the machine straight from the box. Included is; seam ripper, twin needle, cleaning brush, bobbins, needles, eyelet punch, spool pin, hard cover case, small and large screwdrivers, spool caps of different sizes, spool net, and grid sheet. With these in tow, you won't need replacements or anything extra for a long time to come.
As mentioned previously, there are a huge amount of features on this machine too and, what's more, they can all be accessed or adjusted quickly thanks to the LED screen. Included in the features; automatic needle threader, drop feed dog lever, free-arm sewing, six point dog system, fourteen needle positions, adjustable thread tension, quick set bobbin, speed control, programmable thread trimmer, needle up/down, start/stop without foot pedal, and more. Although these aren't absolutely necessary for a sewing machine, they make your job easier than ever before and you will find that you can get sewing quickly without any fuss and with a lot of help by your side.
Cons:
In just a moment, we will take you through a pricing guide and where you can buy this machine but it should be pointed out that it is relatively expensive. If you sew for a hobby and are looking for a machine that will allow you to sew every single day, this is the perfect machine for you. However, you might want to look for a cheaper machine if this will be your first as this model comes in at around $400. If you are a beginner, you won't regret this purchase because it is easy to use and will allow you to complete basic tasks. However, you might regret the price you paid if you don't use it too often.
Other than that, there aren't too many downsides. On the whole, the only minor things we could say is that there isn't a compatible circular sewing foot and that the letter stitches can be rather small.
1 x Brother Project Runway PC420PRW 294-Stitch Professional Grade Computerized Sewing Machine.
1 x Needle Set.
4 x Bobbins.
1 x Power Cable with Foot Controller.
1 x Knee Lifter.
1 x Hard Sided Dust Cover.
1 x User Manual.
13 x Zigzag/general purpose foot, Blind stitch foot, Buttonhole foot, Button fitting foot, Monogramming foot, Non-stick foot, Open toe foot, Overcasting foot, Quilting foot, Stitch guide foot, Walking foot, Zipper foot, and Adjustable Zipper/ Piping Foot.
Q
What are the key dimensions?
A
In total, this Brother model is 17.3 x 7.9 x 11.4 inches and weighs around 17 pounds.
---
Q
Does it come with a warranty?
A
Yes, you will receive a 25-year limited warranty which should allow you to get most problems fixed if you contact the manufacturer.
---
Q
Can it be used for quilting?
A
Thanks to the solid construction, quilting is possible on this machine and you should find that there isn't too much vibration or movement.
When you're in the market for a sewing machine, there are a number of factors that you have to consider before deciding on one to buy. Firstly, your decision will be affected by whether this is your first machine or whether you are looking for an improvement on a sewing machine you already own.
Secondly, you need to ask yourself what you would use it for; if it is for simple tasks, you can look towards the bottom end of the market. On the other hand, you might need something more expensive and expansive if you're going to be sewing each and every day. Finally, you need to consider your budget which is why we have been reviewing the best machines on the market at a variety of price points.
With our reviews, you will very quickly work out what you need and what you should be avoiding. Today, we have the Brother PC420 PRW Project Runway Sewing Machine.
Key Features
Firstly, it has nearly 300 built-in stitches which means that you will never get bored of making different things. Considering that some devices offer less that 20, this Brother machine is fantastic if you like to sew for a hobby and have fun creating all sorts of different projects. Included in the 294, you will find utility stitches, decorative stitches, satin stitches, cross stitches, as well as a selection of letters and characters in different fonts.
Secondly, it stitches at 850 per minute and is built with a metal frame construction which means that you shouldn't experience any movement even when working with thick, heavy fabrics. Furthermore, this Brother sewing machine also comes with 11 presser feet.
Along with the basics, you will also receive a number of accessories and useful functions such as the fabric feeding system, F.A.S.T bobbin system, speed control, illuminated start/stop, presser foot pressure adjustment, one-handed threading system, and more.
Additionally, the LED screen makes your settings more accessible than ever before and you can adjust the stitch or turn on the light within just a matter of seconds.
Overall, this is a fantastic machine and one of the best you will find on the market. Regardless of whether you are a beginner or an expert, this model offers tons of features and accessories which can be enjoyed for years to come. Ultimately, whether you buy this product or not comes down to how much you would use it and what return you would see from the investment.
Pricing
Another bonus point for this machine is that it is available in a number of locations, so let's take a look.
Amazon – $396.94
Walmart – $396.94
Home Depot – $397.30
Target – $399.99
Joann – $499.99
Although Amazon offers the best price and will offer a fantastic delivery service to all, Walmart, Home Depot, and Target aren't too far behind.
2
Janome 2212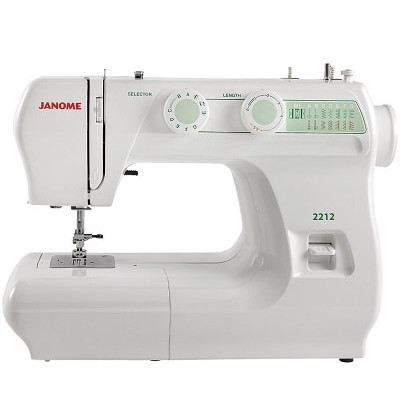 Pros:
The main benefits has to be its ease-of-use and the fact that it can be setup and used by absolutely anyone of any skill level. Regardless of whether you are a first-timer or a seasoned 'sewist', this machine offers everything you will want and need to get started.
Despite its lightweight feature as a unit, it is relatively sturdy and you shouldn't run into any problems with vibration or movement when trying to sew heavier fabrics. One of the biggest problems when quilting or stitching materials like thick denim or leather is that the machine struggles to handle it. When this happens, vibration and movement can occur which can drastically affect accuracy. However, the Janome 2212 sits still allowing for precise sewing.
Also, it is fully mechanical which means that you don't have to worry about how much energy you're using every time you turn the machine on. This, coupled with the fact that the machine is fairly affordable, means that you should be keeping your costs to a minimum not only at the point of purchase but the months and years after too.
Cons:
As we move forward in sewing, the amount of stitches available becomes more important and the lack on this model is deeply disappointing. With just 12 to choose from, you will be severely limited with what you can achieve. Although this might be enough for a beginner looking to complete simple tasks, it doesn't really allow for much creativity and you will soon become tired of the same old stitch patterns. In truth, you will find models that have a lot more for a similar price. Even if you spend a little more, the extra investment can lead to a vast increase in the amount of hours you spend sewing.
Also, this product isn't computerised which is another thing that holds this product back a little. With technology always improving, non-computerised sewing machines are slowly becoming outdated. Of course, this will not be a problem for you if it isn't an important factor.
Q
Does it come with a warranty?
A
Yes, when ordering from Janome you will receive a 25-year limited warranty. This is important for your machine because it is always good to know that you will receive help if anything goes wrong.
---
Q
What is the total weight?
A
As a unit, the product weight a little over fifteen pounds which makes it easy enough to move around whenever necessary.
---
Q
How long is the arm?
A
If you measure from the body frame to the edge, the arm comes in at around nine inches.
Overall, if you're looking for a machine that is easy-to-use, you have come to the right place because that is what Janome are famous for. However, some of the features are lacking a little. The fact that there are only 12 stitches to choose from is really disappointing and it will play a part in what you create and how soon you get bored with the same stitch patterns. The accessories are useful and will make your experience enjoyable but it depends how big a part the drawbacks play. If they aren't important to you, this machine will work perfectly well for your needs!
For many years, Janome has been known among the masses for producing sewing machines that are easy-to-use. With technology always advancing, it can be easy to lose sight of the customer and some companies have done this; as a result, the beginners have been pushed out of the market.
Despite this, Janome has produced customer-friendly machines time and time again. Has this changed for the 2212 machine? Let's find out as we look into the key features of this model in addition to the benefits, drawbacks, FAQs and pricing review.
Features
The 2212 model is extremely easy to use as ever and it makes for a good introductory machine for beginners for this very reason. With all the dials clearly laid out, users can make changes to their setup within seconds and continue with a different job.
The Janome 2212 machine has twelve different built-in stitches which includes classic and decorative styles. In addition to this, you will also find a four-step buttonhole stitch.
Also, being able to adjust your machine might just be the catalyst for your decision and luckily, this machine offers lots of options for customization. Along with the dials we have already discussed, you will also be able to change the length and width of the stitch depending on what task you are working on. In some scenarios, you may find that a small combination of the two is required whereas in others, you might want to set stitch length and width right up to the maximum.
Janome says themselves that they realize their machines aren't the most important factor, they say that what we create with them tops everything. For this reason, they have included a number of useful features such as the stitch dial selector, the reverse lever, push-pull bobbin winder, snap-on presser feet and more. Also, the free arm will make cuffs and collars easier than ever before.
Price Comparison
As we have said with other products, all of this information is made redundant if the product doesn't fall within your price range so let's take a look at the current prices in the market;
Amazon – $149.00
Overstock – $149.00
Craft South – $209.00
eBay – $149.00
Joann – $149.00
HSN – $149.00
As you can see, you have a wide selection of retailers to choose from if you wanted to go ahead and order this model. Included in this list are a number of big names that will all get the product to you quickly whilst providing a good customer support option.
3
SINGER 4423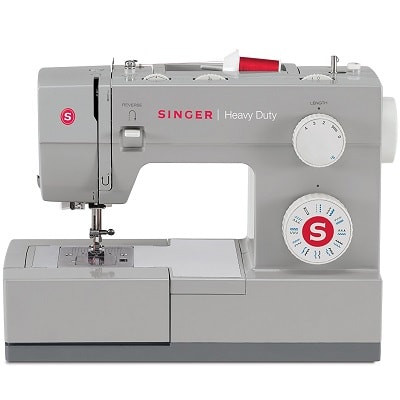 Pros:

When compared to some others, one big benefit is the sturdy frame as this allows for accurate stitching. With some machines that use plastic, heavy fabrics can create vibration and shaking which can distort the stitching but this isn't a problem with this machine.
Furthermore, the amount of accessories that come with the product it perfect for a first-time buyer. If you're experienced and have owned sewing machines before, you may already have these extras but they will come in handy nonetheless. Included in the package is; seam ripper/lint brush, bobbins, needles, dust cover, instruction manual, spool pin felt, screwdriver, quilting guide, auxiliary spool pin, foot control, zipper foot, button sewing foot, all-purpose foot, buttonhole foot, and more. With all these accessories, you will soon master the basic techniques as well as some of difficult methods of sewing.
Cons:

A number of customers have had trouble with finding spare parts with customer support not providing much help. Although Singer is a big name in the sewing machine world, quite a few reviews seen around the internet have noted how they couldn't contact customer support and that the nearest location for repairs was too far away. With this in mind, it could be a wiser move to look for another company that is closer to you or where you can at least order spare parts if something goes wrong.
In addition to this, there have also been a number of complaints regarding its lack of 'heavy duty' abilities with many seeing the motor burn out or fail after just a few months. In these cases, they also reported how it struggled to deal with the thick fabrics that Singer had promised it could deliver on. It should be noted that these reviews and comments were only a tiny percentage of the total reviews. In fact, the product averages over four and a half out of nearly 1,800 ratings on Amazon.
Q
Does it come with a foot pedal?
A
Yes, the machine does have an easy-to-use foot pedal which makes for an easier sew.
---
Q
Does it have a case?
A
The product does come with a plastic cover that will keep it protected but it doesn't have a carry case. If the machine needs to be moved, it can be done fairly easily as it isn't the heaviest around but there is no carry case to speak of.
---
Q
Does it work well with light fabrics?
A
One concern that always seems to arise with 'heavy-duty' machines is whether they can also handle light jobs here and there but this Singer device is adaptable. Many have noted how they were surprised with its ability to handle thinner materials that can normally get bunched up.
Although there have been a few complaints and there aren't as many stitching options as some other models, this Singer product will work well with the majority of materials. Soon after receiving, you may find that it takes a while to get used to and you need to play around until you find a setup that works for you, but with some practice, it can become a fantastic machine for all your sewing needs.
With so many different sewing machines available nowadays, it can be difficult to know exactly which ones are best. However, we have a series of sewing machine reviews that allow you to compare and contrast multiple devices.
Today, we will be looking at the Singer 4423 sewing Machine and you will get a look at some of the key features, benefits, drawbacks, and even some FAQs and the pricing overview. After, you will then have the chance to compare the results with another sewing machine until you find the perfect one for you. To start, let's take a look at some of the main features on offer.
Features
One of the main features that you will want to know is the stitching capabilities and this Singer model does well with 23 built-in stitches; this is made up of different types of stitch including basic, decorative, buttonhole, and stretch.
In terms of the speed, you will be able to do up to 1,100 stitches per minute and the whole unit should remain stable thanks to a heavy duty base frame. The motor itself is also said to be 60% stronger than 'conventional' sewing machines which less time sitting in the chair and quicker results. As it sits on a stainless steel bed plate, it shouldn't move as much as those competitors who choose to use plastic.
To make things easier, you will have a top drop-in bobbin to use as well as an automatic needle threader which aren't key components as far as performance goes but they will make your experience more enjoyable as these can be frustrating tasks.
Whilst discussing making things easier, the one-step buttonhole has to be included in this category. In just one easy step, you can create fantastic buttonholes; previously, this is another task that had the potential to lead to frustration.
The power of this machine is also important to note as it has the ability to sew through a number of the toughest materials. Equally important, you will also be able to sew through many layers of material at the same time.
Finally, we have some extra features including an adjustable presser foot pressure which makes the whole process a whole lot easier when sewing heavy fabrics, drop feed for free-motion sewing, and a top drop-in bobbin.
Price Comparison
If you decide to go ahead and order this Singer model, you will need to know where the best prices can be found so we have also done some research here too. Below, you will find a list of prices that can be found on online sites;
Amazon – $148.99
Walmart – $163.77
Joann – $174.99
Sears – $154.58
Kmart (via Sears) – $154.58
4
Brother XM2701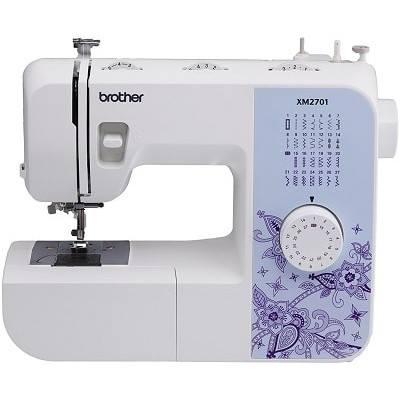 Pros:

The first and most obvious benefit to be the price as it allows beginners to get involved with sewing. With some other machines, it can be a risky investment and it has to be used often in order to make it a worthwhile cost. However, as this model can be found for under $100, it allows beginners to buy a product and then decide whether they want to do it long-term or not. Furthermore, some people may buy this product just to test the waters. Then, if they find that they enjoy sewing and that it comes to be useful, they can spend a little extra on something a little better.
Additionally, the LED screen makes sewing that little bit easier. With dials and random buttons, you could lose where you're at or not that you have a certain setting switched to the wrong amount. With an LED screen, you will be able to see everything right in front of you.
Even for more experienced sewers, this machine is easy to setup and get going. If you have a simple task that requires a few minutes of sitting down, the Brother XM2701 can be switched on and setup in just a matter of seconds. With others, it may take some time to get the bobbin right, and thread the needle; whilst doing all this, the task could have been completed on this product.
Cons:

Firstly, this product has been designed and developed to be one of the cheaper options on the market which means that some areas have been restrained. For example, you would struggle to sew with really thick fabrics or multiple layers of fabric because it simply hasn't been built for this. If you think you will need to sew thick fabrics, you may want to look elsewhere.
Secondly, some have found the LED screen to be a bit dim. When you have an LED screen, the objective is to be able to see in the dark as well as being able to adjust settings easily. If the screen is dim, you automatically lose 50% of its objective which can be damaging to efficiency.
It is also important to note that the presser foot lever is found under the arm which can be frustrating for people who prefer it elsewhere.
Q
Is it suitable for children?
A
Many customers have noted how they bought this product when they were beginners; then, they handed it down to their children after buying a second machine.
---
Q
Can the speed be adjusted?
A
The speed of your sewing can be adjusted easily using the foot pedal control. If you want to start slowly, just press down lightly. The harder you press down, the faster the needle will go.
Ultimately, this is a great sewing machine for beginners. If you're looking for a second machine, you may find it a little short in some areas but for the price and what it promises, you cannot complain. Sure, it may not handle heavy fabrics too well but if you are just looking for a machine to complete simple tasks with, this Brother model is a fantastic choice!
With many products in the market, the price often reflects both design and performance but does this ring true for sewing machines? With the Brother XM2701 model coming in under $100, it makes it one of the cheapest options available. However, will this reflect in its features? Join us as we go through the key features, benefits, drawbacks, FAQs and then finish with the pricing summary.
Once you have gone through this review, you should have all the information you need to make an informed decision. You can then decided whether to buy the product or not, as well as being able to compare it with other reviews we have. Before we get too far ahead of ourselves, let's take a look at the Brother XM2701.
Features
Considering its price, one of the most important features is the 27 different built-in stitches. Although you will find more on some other products, you will also find products that are much more expensive. Within these 27, you will find basic, decorative, one-step buttonhole, zigzag, stretch, blind hem, and more stitches. Whether you are a beginner or a more advanced sewer, these will come in handy with multiple different projects.
Additionally, this Brother model boasts versatility and a simple-to-use mechanic. If this is the first ever sewing machine you will be buying, it makes for a great starting point as you can get to know the basics. Along with providing tools for everyday tasks, setup is also extremely simple thanks to the built-in needle threader.
There are also many sewing feet that come with the product including zigzag, buttonhole, blind stitch, narrow hemmer, button sewing, and more. With these quick-change sewing feet, your job will be easy and you will see results soon after setting up.
Of course, the main unit has its useful features but the little extras that come with the device are winners. By including things like drop-in bobbin, screen, jam-resistant bobbin, and the needle threader, it just makes your time with the machine that little bit more enjoyable.
Finally, there is plenty of help made available via the bilingual user manual, an instructional DVD, and free technical support for all customers (no matter how old the product is). On top of this, users will also have a 25-year limited warranty to use just in case something happens to go wrong.
Price Comparison
Although you may find this product on various auction sites, Amazon seems to be the best location to buy this product. At just $99.97, you will be receiving a great price whilst being safe in the knowledge that you are ordering from a safe site.
5
Brother HC1850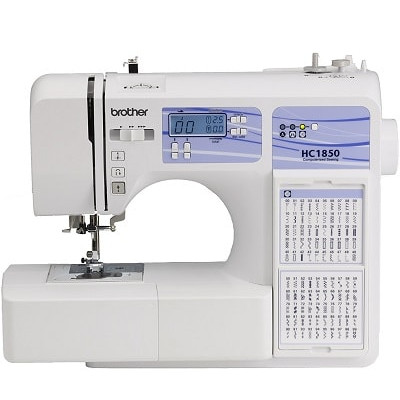 Pros:
When discussing the good things about the Brother HC1850, we have to discuss the affordable price. On Amazon, you will currently find this particular model for under $200 and it can also be found elsewhere but we will take you through a pricing guide in just a moment. At this price point, it doesn't present as much of a risk for first-time buyers as some other models.
All buyers will get a 25-year warranty which is very useful if anything were to go wrong. Although this is a good thing on its own, couple it with the fact that Brother are one of the biggest companies in sewing and it becomes even more important. If you were to come across a broken accessory or a faulty feature, the company are easily accessible and you will find that a replacement will probably be on the way before you even put the phone down.
Also, there are plenty of stitches to be getting on with. Even if you buy the product for simple tasks, you will soon find yourself playing with the various features and stitches available. In truth, there are other products on the market, that can be found for a similar price, that offer significantly less built-in stitches.
Cons:
Up until this point, we have made a serious note of how Brother advertises this model as a quilting machine and this is important because many experts have been left disappointed. For the beginner, it will handle simple quilting tasks. However, many more advanced quilters have noted how their isn't enough rise in the presser feet which is a problem when dealing with thicker quilts. Additionally, the machine's neck is also on the small side which can make the feeding a little tricky. This will only be a problem if you're a serious quilter but if you're not, you will find that it handles well for simple, thinner materials.
Some have also been left frustrated at the lack of storage for the many accessories that come with the product. Although this isn't something that will make or break your sewing experience and it doesn't directly affect the performance of the machine, you will need to have a place to keep all your accessories. If you absolutely need on-board storage, you will find other machines that have trays and pull out storage containers built-in to the machine.
1 x HC1850 Computerized Sewing Machine with Wide Table.
1 x Foot controller pedal.
1 x Wide Table
2 x User Manuals.
3 x bobbins
3-piece needle set
1 x ball point needle
1 x twin needle
1 x cleaning brush
1 x eyelet punch
1 x screwdriver
3 x spool caps
1 x extra spool pin
s1 x eam ripper
Presser feet: Zigzag, Overcasting, Monogramming, Zipper, Blind stitch, Buttonhole, Button sewing and Quilting.
QIs it stable?
A
Thanks to a good design and a solid frame, you will find that there is very little movement when dealing with heavier fabrics and multiple layers of denim.
---
QDoes it come with a case?
A
No, you will not receive a cover or carry case with this machine. However, you will find that there are a variety of 'standard-sized' covers and carry cases that can be found for a good price.
---
QWhat are the dimensions?
A
This model comes in at 16.3 x 7 x 12.5 inches which means that the majority of standard carry cases and covers will fit perfectly.
On Amazon, this product has over 600 reviews and an average rating of 4.5 stars so it's fair to say that those who have bought the machine, like it. First of all, we will take you through the key features of the machine before moving on to cover the benefits, drawbacks, FAQs, and a pricing summary.
Before we head into the review, it is important to note that Brother has labelled and advertised this model as a 'Sewing and Quilting' machine. Whilst some choose to avoid the 'quilting' label, Brother has openly said that this model can handle heavy fabrics.
Key Features
Firstly, the amount of stitches is likely to sway your decision so let's start by saying that this machine has 130. Although it isn't the most that we have seen, it is a long way from the least and will provide you with a good selection. Included in this is 42 garment construction stitches, 94 decorative stitches, 14 quilting stitches, and 8 automatic buttonhole styles.
As mentioned previously, Brother brands this product as a quilting machine and as a result, offers many features for the job including a detachable wide table, 14 quilting stitches, spring action quilting foot, and it allows for free-hand quilting.
Furthermore, you will also find an LED screen which makes the model easy to use. Even for the absolute beginner, this machine is easy to set up as all the stitches can be chosen via the LED screen and it will also illuminate your work area.
Finally, it boasts a number of accessories including a three-piece needle set, three spool caps, extra spool pin, three bobbins, screwdriver, 8 presser feet, seam ripper, and a cleaning brush.
All in all, the Brother HC1850 is a fantastic product thanks to the wealth of stitches available, accessories and features. As a fully computerized model, it offers a great first option for beginners. When it comes to quilting, it will be good enough for small tasks but you may want to look for something a little more robust and bigger (neck size) if you plan on quilting every day.
As you can see, all three sellers are offering the product for a similar price and they are three huge names that you will be safe with. With Amazon in particular, you have one of the biggest companies in the world and you know that, as well as a good delivery time, you will be able to return any faults and receive customer support.
Related Guides: