Quick Comparison Table
| | BROTHER | SINGER | BROTHER | BROTHER | JANOME |
| --- | --- | --- | --- | --- | --- |
| | | | | | |
| Price | $ | $ | $ | $ | $ |
| Warranty | 25-year limited warranty | 25-year limited warranty | 25-year limited warranty | 25-year limited warranty | standard two-year warranty |
| Stitches | 37 unique built-in stitches | 23 Built-In Stitches | 50 Built-In Stitches | 27 unique built-in stitches | 18 stitches |
| Amazon FREE Shipping | | | | | |
| | | | | | |
5 Top Rated Beginner Sewing Machine Reviews
1
Brother XR3774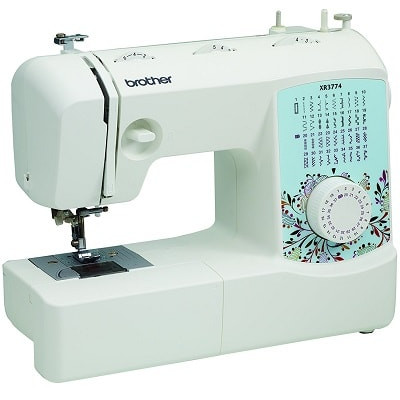 Pros:
This delightful sewing machine is capable of a staggering 800 stitches per minute. Simply put, it is designed to make sewing a pleasure, and the well-lit LED work area will ensure that you can always see exactly how your project is taking shape. Another bonus is the free arm, which allows easy access for hard-to-reach places like cuffs and collars.
Cons:
It's hard to find anything negative about this machine. However, a recent review rightly pointed out that in the absence of a specific case, there are limited options available for protective cases for this machine.
1 x Brother XR3774 Full-Featured Sewing and Quilting Machine.
8 x Presser Feet – Blind Stitch Foot, Buttonhole Foot, Button Sewing Foot, Narrow Hemmer Foot, Walking Foot, Quilting Foot, Zigzag Foot, and Zipper Foot.
1 x Wide Table.
1 x Instructional DVD.
1 x Power Cable with Foot Controller.
Q
Is there a built-in thread cutter in this machine?
A
No.
---
Q
Do the feed dogs drop?
A
No. However, the darning plate that is included covers them during free-motion quilting and stippling.
---
Q
Does this machine have built-in sewing letter fonts?
A
No, but it does have a wide range of built-in quilting stitches.
---
Q
What is the package weight?
A
19.4 pounds.
The Brother XR 3774 beginner sewing machine is, by all accounts, a sterling choice. Best of all, more than one buying guide confirms that it's not just for beginners. Considering the professional stitch quality and versatility, you would expect to find a hefty price tag on the XR 3774, but this is just one more pleasant surprise.
The XR 3774 has six feed dogs and a large extension table which makes quilting a pleasure. 37 Stitches are built in and these include a one-step buttonhole feature. In total, there are 74 stitch options and stitches are not only conveniently displayed on the front of the machine, but are easily selected via the dial selector.
Automatic needle threading makes threading a dream and the automatic bobbin winding facility is a huge time saver too. The Quick-Set Bobbin is jam-resistant and has a clear cover for easy monitoring of bobbin thread supply.
Design
Dimensions of 12.0″ x 5.8″ x 15.3″ make this machine extremely compact. It's designed for home use but weighs just 12.3 lbs. so you can easily transport it to sewing classes or craft meetings too.
This machine is easy on the eyes as well, with a soft blue overlay on the face of the machine and a lovely floral motif around the stitch selection dial. The manufacturer has clearly invested time and thought in the design of this machine as it has many great features. These include a handy accessory storage compartment.
Material
The 25 Year Limited Warranty that this brand has become known for, covers the XR 3774 sewing machine too. Brother is a top—rated manufacturer and this machine is a prime example of their well-finished products and use of premium quality materials.
Where to Buy
Sears.com has stock of the Brother XR 3774 sewing machine at $142.79. However, Amazon's awesome price of $114.98 will soon replace the 'for sale' tag on this machine, with a 'sold' label!
2
Singer 3223G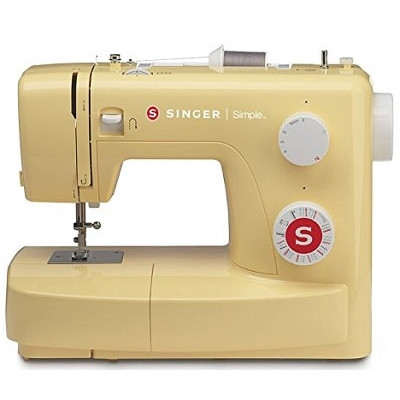 Pros:
The 3223G boasts a four-segment feed dog system, as well as multiple needle positions.
Especially useful for beginners is the access to online tutorials and support which is available to users. Not to mention the large social media network to exchange tips and tricks with other sewing enthusiasts.
Cons:
For some users, the more traditional side-loading bobbin takes some getting used to.
1 x SINGER 3223G Sewing Machine, Petrol.
1 x Accessory Kit Includes Needles, Bobbins, Seam Ripper, etc.
4 x Presser Feet: All-Purpose Foot, Buttonhole Foot, Zipper Foot and Button Sewing Foot.
1 x Power Cable with Foot Controller.
1 x Soft-Sided Protective Cover.
1 x Instruction Manual.
Q
Does the Singer 3223G have a thread cutter?
A
Yes, it has a manual thread cutter on the left side of the machine.
---
Q
Is this machine suitable for children to use?
A
This machine is designed for beginners, and many user reviews report that it is suitable for children, with careful tuition and adult supervision.
---
Q
Does this machine have the capacity to sew denim?
A
Yes, with the correct needles and settings, it can sew denim.
---
Q
What is the package weight?
A
15.1 pounds.
When a product earns five-star ratings from 80% of its users and is voted Consumer's Choice, you know it's a winner. Every buying guide agrees, the Singer brand's 3223G sewing machine is the ideal choice for home use, especially for beginners.
The Singer 3223G's 23 built-in stitches include 6 essential stitches, 7 stretch stitches, 9 decorative stitches and 1 automatic 4-step buttonhole. Stitch selection is made super easy via the dial on the face of the machine. A professional touch on this machine is the ability to adjust the length and width of stitches.
Threading instructions are conveniently displayed on the front of the machine for easy threading and the tension is adjustable. Another exciting feature on this delightful machine is the extra-high presser foot leverage, which easily accommodates multi-layer projects.
The presser feet simply snap on and this saves loads of time and frustration – especially for beginners. This machine even has a free arm option to allow users access to awkward sewing areas, like sleeve cuffs and collars. A handy accessory storage compartment is built into the free-arm too.
Design
The retro 'petrol' color of this well-rounded machine is adorable. The manufacturer has succeeded in achieving durability and portability in this machine, with dimensions of 15 x 7.5 x 12 inches and a weight of 12.2 pounds. While the 3223G is marketed as a beginner sewing machine, it is one of the best entry level machines in its price range.
Material
The top-rated heavy duty metal frame that Singer is well respected for, forms the core of this machine. The outer casing is made of premium quality plastic that is likely to easily exceed the 25 Year Limited Warranty.
Where to Buy
Walmart.com has stock of this fun, but highly functional sewing machine at $121.77. Amazon consistently surpasses all expectations by making the price of this great machine fun too, and you can get yours now at just $100.33 while stocks last.
3
Brother CS5055PRW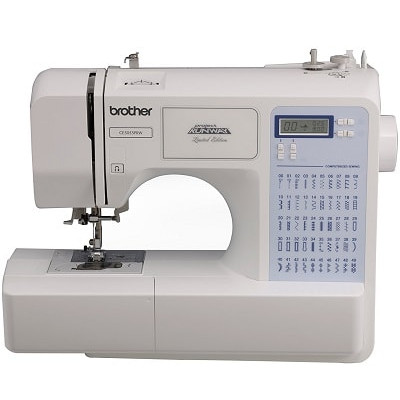 Pros:
The LED-lit super bright work area alleviates frustrating eyestrain. Other great aspects of this machine include easy bobbin winding and an exceptional feeding system, that is drop feed enabled for convenient free-motion quilting.
Cons:
The CS5055PRW's needle is not programmable. While the absence of this feature is consistent with this price category, some user reviews have noted that it would have been a bonus.
1 x Brother Project Runway CS5055PRW Computerized Sewing Machine.
6 x Presser Feet: Overcasting Foot, Monogramming Foot, Zipper Foot, Blind Stitch Foot, Buttonhole Foot, and Button Sewing Foot.
1 x Accessory Pouch Containing: 3 Bobbins, 3-Piece Needle Set, Ball Point Needle, Twin Needle, Cleaning Brush, Screwdriver, Extra Spool Pin, and Seam Ripper.
1 x Power Cable with Foot Controller.
Q
Does this machine come with an extension table for quilting?
A
No, unfortunately, it doesn't.
---
Q
Is a dust cover included with this machine?
A
No, but they are available on Amazon.com, or it could be fun to sew one as your first project.
---
Q
Does the Brother Project Runway CS5055PRW machine have an automatic thread cutter?
A
No.
---
Q
What is the package weight?
A
14.7 pounds.
Beginner sewing machines are expected to offer entry level features at an affordable price. However, the Brother Project Runway CS5055PRW computerized machine for beginners offers top rated features that give more expensive machines a run for their money, at a fraction of the price.
Boasting a staggering 50 built-in utility, decorative, and heirloom stitches, with multiple stitch functions totaling 87, there is not much that this machine cannot do. There are five one-step custom-sized buttonholes to select from and the stitch chart on the front panel of the machine makes stitch selection a breeze.
Easy threading is further enhanced with an automatic needle threader. The Quick-Set drop-in bobbin and easy view LCD display screen with intuitive stitch selector are two more quality features you can look forward to on the CS5055PRW.
The vertical spool pin is another happy surprise that is usually limited to more expensive machines, and almost every buying guide applauds the way it allows more consistent feeding, especially for speciality threads.
Design
As you would expect, a beginner machine designed for home use should be lightweight and portable. This remarkable machine meets both these criteria, with dimensions of 19.5 x 10.8 x 16 inches. Designed for a wide range of sewing projects and the convenience of computerized features, the manufacturer has delivered a machine that offers professional performance.
Material
Brother has a reputation for innovation and quality. The premium materials used in this machine are consistent with the kind of durability that will exceed the machine's 25 Year Limited Warranty. You can buy this versatile machine with confidence.
Where to Buy
Joann.com has the Brother CS5055PRW Computerized Sewing Machine in stock at $139.99. Amazon has the best deal on this exceptional machine at an unbelievable price of $121.05 while stocks last.
4
Brother XM2701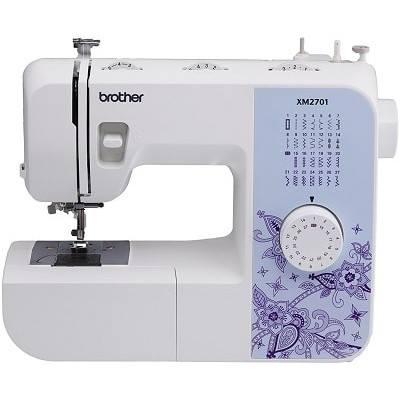 Pros:
This incredible machine comes with free telephone and online technical support for the life of the product.
Cons:
There is nothing negative that can be said about this machine. However, it is not recommended for use in countries that do not support 120 V AC, even with an adapter.
1 x Brother XM2701 Sewing Machine.
6 x Sewing Feet – Zipper Foot, Blind Stitch Foot, Button Hole Foot, Button Attachment Foot, Narrow Hemmer Foot and Zigzag Foot.
1 x Instructional DVD.
1 x Accessory Kit That Includes Twin Needle, 3-Piece Needle Set, 4 Bobbins, a Darning Plate, an Extra Spool Pin, and a Screwdriver.
1 x Power Cable with Foot Controller.
Q
Does this machine have adjustable sewing speed?
A
No, it does not have independent speed control. Speed is controlled via pressure on the foot controller.
---
Q
What is the youngest age a beginner could use this machine from?
A
Several user reviews confirm that children aged 9 and up use this machine with ease. Adult supervision is recommended.
---
Q
Is it possible to drop the feed dogs for free motion quilting?
A
Yes, although the feed dogs don't actually drop, they can be disengaged using the darning plate.
---
Q
What is the package weight?
A
15.8 pounds.
If you are looking for a beginner sewing machine that will deliver professional results and be ideal for home use, look no further. The Brother XM2701 was recently rated in the top four best sewing machines for beginners, by a reputable buying guide.
The XM2701 boasts an impressive 27 stitches, including a one-step automatic buttonhole feature. The built-in needle threader is a surprising, but welcome inclusion in a machine in this price range. So is the jam-resistant top drop-in bobbin housing with transparent cover, which helps to minimize the likelihood of running out of bobbin thread mid-seam.
The patented bobbin system consistently delivers precise, even stitch quality. In addition, the XM2701's innovative bobbin winder winds the bobbin right in the bobbin compartment – how's that for convenience?
Other convenient features include the brightly lit LED work area, Brother's trademark Quick-Change presser feet, and the easy-to-use stitch selector dial. Another great inclusion in this versatile sewing machine is the free arm capability for those hard-to-reach sewing areas. The free arm also contains a handy accessory storage area.
Design
The manufacturer is known for innovative design and this machine is evidence of that. At 17.8 x 7.6 x 15.1 inches, this 12.6lbs. sewing machine is compact and lightweight, without compromising stability and durability. Several user reviews sing its praises as a machine that is highly portable and versatile. It also delivers an impressive 800 stitches per minute.
Material
The stylish design of the XM2701, together with the high-quality materials and finishing, may deceive you into thinking this machine is expensive. On the contrary, this magical sewing machine is just one more example of this brand's attention to excellent quality at a very affordable price. Brother's 25 Year Limited Warranty is hard to argue with.
Where to Buy
eBay sells the Brother XM2701 for $112.89. True to form, Amazon is hard to beat with an unbelievable price of just $99.97 on this top rated product.
5
Janome Magnolia 7318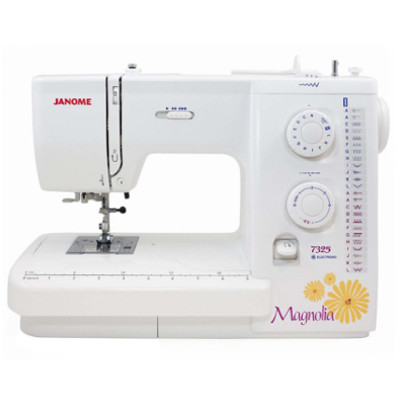 Pros:
Firstly, the many users of this product have noted that its versatility is one of its best features. Not only will it handle simple sewing tasks, it will also excel with light quilting and even fun projects like teddy bears and other toys. With a good stitch speed, projects can be done at a good pace and the solid frame will prevent any movement when attempting to sew with heavier fabrics.
Furthermore, this Janome model is reliable and has been noted for its strong motor allowing for an extended use. When you have a machine that offers both reliability and a solid performance, you know that you have a companion for a long time to come and that is exactly right for the Janome Magnolia 7318.
Cons:
Earlier, we discussed the fact that Janome were from Japan and although this is great for the industry, it can provide problems for everyone else who isn't in Japan. Although they are a big name, it can be tough to find replacement parts or even accessories for the sewing machine, which isn't convenient. It is important to note that it won't be impossible to find accessories, it will just take a little longer than when you buy a product from the US. Ultimately, this isn't likely to cause a problem because the performance and design outweigh any potential delay in receiving accessories.
Additionally, the drop feed location also causes a problem as it is located around the back. Again, this may not be a deal-breaker but it is something to consider because it means that you will have to get up and maybe even walk around to the other side of the model to adjust.
Finally, the fact that there are only 18 stitch patterns is also a little disappointing as it doesn't allow for as much creativity as some of the other models. If you take a look at some of the other reviews we have done, you will see sewing machines that offer 50, 100, 200+ stitch patterns.
1 x Janome Magnolia 7318 Sewing Machine.
1 x Power Cable with Foot Pedal.
1 x Bonus Pack of 10 Plastic Bobbins and ¼" Seam Presser Foot.
1 x Accessory kit: Needles, bobbins, Screwdriver, Seam Ripper and Lint Brush, Spool Holders, Pin and felt.
1 x Operating Manual.
Q
Is it easy to thread?
A
Thanks to the needle eye facing forward, the threading process is actually straightforward as you don't have to crane your neck or get into an uncomfortable position to start sewing.
---
Q
How does the four-step buttonhole work?
A
As the name suggests, it is a simple four step process and once set, you will need to complete each step manually to see the result.
---
Q
Does it comes with a warranty?
A
Yes, all the electronic parts on the product are protected by a five-year warranty.
---
Q
What is the package weight?
A
17.4 pounds.
When it comes to beginner sewing machines, the UK and the US have some of the biggest names in the industry. Here we brought one of the most popular models for starter sewers – Magnolia 7318 by Janome. You can review this product and compare with others. We will take you through the key features, benefits, drawbacks, FAQs and even the prices that you will find in the market!
In total, this Janome model has 18 different stitches which includes a four-step buttonhole. In addition to this, it boasts simple controls that are easy to use and navigate which means that even beginners will have no trouble in setting up and getting going. Although there isn't an LED screen on this product, the stitches are easy to choose between thanks to a simple dial.
All stitches can also be adjusted and the automatic reversal feature allows for stitches to be locked into place for future use. Being able to adjust the variation of thread by five millimeters in width and four millimeters in length means that the user can really change the settings to their preference.
This model is lightweight at just 17 lbs meaning that it can be moved into place easily and even transported from one location to the next. If you go to sewing classes or even the ever-more popular sewing parties, a simple carry case will be all you need to move the product. Even though it is a lightweight design, it handles heavy fabrics extremely well and will not vibrate or move around like other lightweight machines.
Furthermore, there is a simple top drop-in bobbin which makes the old process easier than ever before. Previously, you would have to guess the direction of the thread but now, it simply drops in and everything else is already adjusted for you to start sewing.
In essence, this Janome model has all the basics right by offering everything you would expect from a sewing machine including a reliable design, solid performance, a full horizontal rotary hook, free arm, extra-high presser foot, snap-on presser foot, thread control, carry handle, 830 stitches per minute, stretch stitch adjustment, and more.
Where to Buy
Amazon comes out on top a whopping $50 cheaper than every other retailer, with most valued at just under $300.