Quick Comparison Table
| | JANOME | JANOME | SINGER | BROTHER | SINGER |
| --- | --- | --- | --- | --- | --- |
| | | | | | |
| Price | $ | $ | $ | $ | $ |
| Warranty | 25-year limited warranty. | not specified | 25-year limited warranty. | 25-year limited warranty. | 25-year limited warranty. |
| Stitches | 12 built-in stitches | 18 built-in stitches | 24 built-in stitches | 240 built-in stitches | 600 built-in stitches |
| Shipping Weight | 14.7 pounds | 17.4 pounds | 27.8 pounds | 21.6 pounds | 28.4 pounds |
| Amazon FREE Shipping | | | | | |
| | | | | | |
5 Top Rated Sewing Machine Under $300 Reviews
1
Janome Jem Gold Plus 661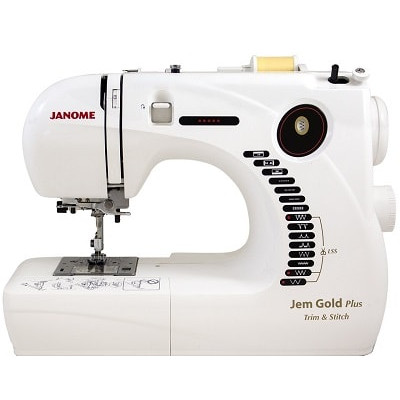 Pros:
The convenient top drop-in bobbin housing has a clear cover which should prevent you from running out of thread in the middle of your seam. The machine also has an easy-to-use bobbin winder.
Cons:

In one user review, a customer observed that the power cable is a little on the short side, especially if your work surface is not near a power outlet. However, the problem is easily solved with an extension cord.
Shipping weight – 14.7 pounds.

1 x Janome LSS 661 Jem Gold Plus Portable Sewing Machine.
1 x Power Cable with Foot Control.
1 x Plastic Dust Cover.
12 x Plastic Bobbins.
1 x Instruction Manual.
1 x Cleaning Brush and Seam Ripper.
1 x Needle Plate.
10 x Machine Needles.
1 x ¼" Seam Straight Stitch Presser Foot.
1 x U Presser Foot to Serge Seams.
Q
Is it possible to drop the feed dogs on this machine?
A
No, but the machine comes with plastic covers to fit over the feed dogs when they are not required.
---
Q
Is the needle on this machine programmable?
A
No, it does not have a needle up/ down feature.
---
Q
Does the Janome LSS 661 have speed control?
A
No, aside from conventional speed control via the foot pedal, it has no additional speed control.
According to more than one buying guide, Janome has hit the nail on the head with the Jem Gold Plus LSS 661 Sewing Machine. Satisfied users agree, with more than 85 % giving this machine a five-star rating.
So, what is it about the Janome Jem Gold Plus LSS 661 that has gotten everyone so excited? Some sewing enthusiasts find sewing machines with too many stitches and features rather intimidating, especially for beginners.
However, the Jem Gold Plus LSS 661 is very user-friendly with 12 built-in stitches and a four-step buttonholer. The automatic threading feature is a huge bonus and the built-in thread cutter and quick foot conversion features are huge time savers.
However, perhaps the most exciting feature of this sewing machine is the revolutionary 'Light Serging System' which allows users to trim, sew and finish seams in one easy step. A generous touch for a machine under $300.
Design
For starters, this machine's dimensions say it all, at 16 x 13 x 10 inches. Weighing in at just 12 pounds, this sewing machine is designed to be compact, lightweight and highly portable. So, it begs the question: is compact and lightweight synonymous with cheap?
Material
Simply put, the answer is no. As a top-rated manufacturer, Janome is serious about quality. This is substantiated by the 25-Year Limited Warranty that this product carries.
Where to Buy
Sears stocks the Janome Jem Gold Plus Sewing Machine at $342.60. If you are looking for the best deal around, look no further, because Amazon has this product at just $279.00, including shipping while stocks last.
2
Janome Magnolia 7318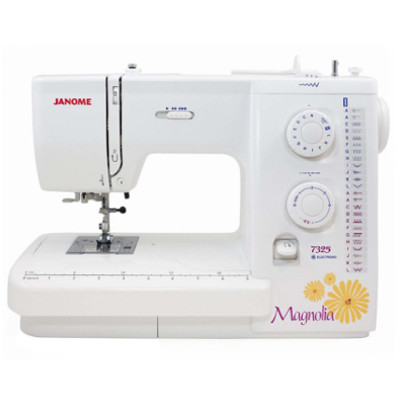 Pros:
The Magnolia comes with a bonus kit that includes the versatile ¼" Seam Presser foot and additional bobbins. Speaking of bobbins, the bobbin winder is a winner too!
Cons:

The Janome Magnolia 7318 is not computerized and some user reviews have noted this with regret. However, by all accounts, it is an excellent machine and with very few exceptions, users LOVE it!
Shipping weight – 17.4 pounds.

1 x Janome Magnolia 7318 Sewing Machine.
1 x Power Cable with Foot Pedal.
1 x Bonus Pack of 10 Plastic Bobbins and ¼" Seam Presser Foot.
1 x Accessory kit: Needles, bobbins, Screwdriver, Seam Ripper and Lint Brush, Spool Holders, Pin and felt.
1 x Operating Manual.
Q
Does it have automatic threading?
A
It doesn't, but the Magnolia 7318 is very easy to thread, so you shouldn't have any issues.
---
Q
Is it possible to adjust the width of the stitches?
A
It is, and it couldn't be easier with the convenient dial on the machine's front panel.
---
Q
Does this machine have multiple needle positions?
A
Yes, it does.
Prepare to be wowed. On the face of it, the Janome Magnolia 7318 sewing machine is everything you would expect from a machine that costs under $300. Except that, it will surprise you with its performance.
With 18 stitches and a built-in 4-step buttonhole function with a balance adjuster for best finishes on various fabrics, the Magnolia is a serious sewing machine. It has ample scope for beginners and intermediate sewing enthusiasts to unleash their creativity and many convenience features too.
Like the top loading bobbin compartment, which is said to be jam-proof by many satisfied users. The transparent cover will help you to easily make sure you have enough thread to finish your seams. The Magnolia also boasts the new 7- piece feed dog system for efficient fabric feeding.
The machine has a built-in thread cutter and a sewing light, and a very useful ruler that is conveniently printed on the front panel of the machine's table.
Design
Not a small machine, its vital statistics are as follows: 18.8 x 17 x 10.5 inches. It weighs under 17 pounds, making it easy to store and transport. Designed to run quietly and remain steady during sewing, more than one buying guide expresses surprise at the power which the Magnolia 7318 delivers. It is unexpectedly pretty for a powerful machine too, with a white outer body, pink writing, and yellow flowers.
Material
Janome is a brand that has become synonymous with premium quality and the Magnolia 7318 testifies to this. User reviews report that it is made of high-quality materials that are durable and easy to clean.
Where to Buy
Walmart has this top rated sewing machine available at $343.65. However, Amazon stays true to their reputation for offering the best deal, and the Janome Magnolia 7318 can be yours for just $299.00.
3
SINGER One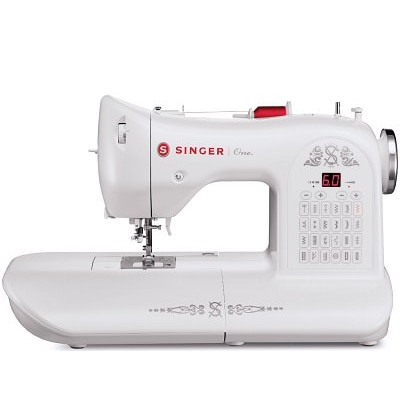 Pros:
This machine is rated between 4 and 5 stars by 81 % of users. This combined with the 25 Year Limited Warranty and all the awesome features listed above, make it a winner.
Cons:

This 110 V machine is designed for use in the United States and Canada only.
Shipping weight – 27.8 pounds.

1 x Singer One Easy-to-use Computerized Sewing Machine.
5 x Presser feet: All purpose, zipper, buttonhole, blind hem, and satin stitch feet.
1 x Power Cord with Foot Pedal.
1 x User's Manual.
Q
Is this machine noisy?
A
No, not at all.
---
Q
Is the foot pedal responsive?
A
Very – you can regulate your speed well with it.
---
Q
Is this a low shank machine?
A
Yes.
Most of us have treasured memories of grandma's old sewing machine and the special creations she conjured up on it. Traditionally sewing machines were made to last, but they had classic swirls painted on them in gold or red – ready to occupy pride of place in the home.
Conventional machines have evolved and largely lost their charm and character. Well, no more of that! As one buying guide put it: the one- touch stitch selection makes selecting any one of the 24 built-in stitches a piece of cake.
Add to this the two fully automatic one-step buttonhole options and you'll never have stitch frustrations again. The revolutionary Swift Smart Needle Threading System with automatic needle threader could very well become your favorite feature of all.
Unless you have a history of bobbin frustrations, in which case the new Drop and Sew Bobbin System with automatic thread pick-up will have you smiling from ear-to-ear.
The presser foot sensor ensures that the foot is in just the right place for a quick start, and the extra-large sewing table gives you ample space for larger projects with its 14.7 inches' expanse. The Singer One also has a convenient drop feed lever to facilitate free-motion embroidery, monograms, and sewing buttons.
Design
The Singer One, Easy-to-use Computerized Sewing Machine's design combines the best of what made grandma's classic machine so durable and pretty, with modern technology and portability. The result? A beautifully curvy sewing machine, complete with filigree swirls, and technology and convenience that user reviews agree, you would NEVER expect from a machine under $300. It weighs 18.5 pounds and the dimensions are 23 x 10 x 13 inches.
Material
Top rated Singer sewing machines all carry the hallmark of heavy duty frames that ensure precision and excellent alignment – the One is no different. However, similarities with other conventional machines end there. For instance, it has three Staybright LED lights that have a lifespan of 100 000 hours each, and always stay cool to the touch.
Where to Buy
Sears carries stock of the Singer ONE Easy-to-use sewing machine at $294.95. Amazon has the best deal all cut and dried, with your name on it for the astonishing price of $229.00.
4
Brother Designio DZ3000
Pros:
Many happy users have reported that the innovative jam-resistant "Quick Set" top drop in bobbin feature is a great addition. The easy-to-use variable speed control slide and stop/ start button are equally convenient. Another favorite aspect of this machine, are the two beautiful built-in fonts for monogramming. Last, but by no means least, is the F.A.S.T Bobbin Winding System which saves loads of time and frustration.
Cons:

Even with the use of a voltage adapter, use of this machine in countries that do not support 120V AC is not recommended. One user review also noted that is does 'everything except coffee' 🙂
Shipping weight – 21.6 pounds.

1 x Brother Designio DZ3000 Computerized Sewing Machine.
1 x Power Cord with Pedal Foot.
1 x Instruction Manual.
1 x Protective Hard Plastic Storage Case.
Q
Does the machine have the capacity to change fonts from upper-case to lower-case?
A
No, unfortunately, it doesn't.
---
Q
What is the length of the cord from the sewing machine to the foot pedal?
A
6 Feet.
---
Q
Does this machine use a computer disk?
A
No, it is pre-programmed.
In the under $300 price category, it is not always easy to find a top-rated machine that can manage sewing and quilting with equal finesse – especially a computerized machine.
Brother did not see this as a challenge, and their Designio DZ3000 computerized machine is the subject of many rave user reviews. The Designio DZ3000 Sewing Machine is like an endless box of surprises, of which the 14 presser feet, (including the circular sewing attachment), are just the beginning.
It has a staggering 240-built in stitches and eight styles of one-step buttonholes. Easy threading of both top and bobbin thread for precise, consistent stitching results, combined with automatic threading make sewing an absolute pleasure.
On the face of the machine, you'll find a convenient flip chart for stitch references. The backlit LCD display, which is 50% bigger than conventional sewing machine displays, clearly shows stitch selections.
The Designio DZ3000 has a free arm for sewing those hard to reach places and a handy accessory storage compartment. Another great feature is the extra wide table which effectively increases the sewing area by an incredible 33%.
Design
The Designio is 21.3 x 13.7 x 17.9 inches in size and according to one buying guide, it is surprisingly lightweight and portable considering all its features. It is designed to create professional, custom-finished products that will satisfy the designs of the most creative sewing enthusiasts.
Material
Brother has become synonymous with premium quality products. In keeping with this, the Designio DZ3000 is manufactured from top materials. It has a durable plastic outer casing that is lightweight and easy to clean.
Where to Buy
Brother's Designio DZ3000 sewing machine is available from Sears for $394.95. Almost as amazing as this incredible sewing machine, is the deal that Amazon has on this product! Now you can get one of the best sewing machines in its class, for the best price of $293.68 at Amazon, while stocks last.
5
SINGER 8060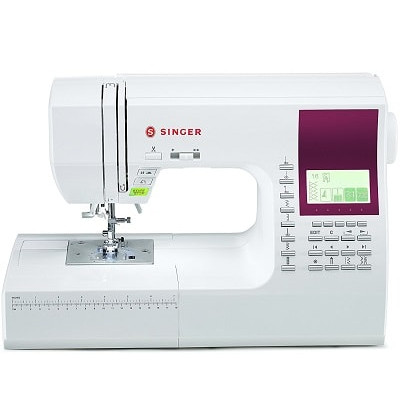 Pros:
The direct stitch selection feature makes stitch selection effortless. The large backlit LED display makes is easy to see which stitch settings have been selected. The automatic thread cutter is a big time saver and, as one buying guide points out, ensures that the machine is ready for immediate use again.
Cons:

This is a 110-volt machine that has only been designed for use in the United States and Canada.
Shipping weight – 28.4 pounds.

1 x Singer 8060 600-Stitch Computerized Sewing Machine.
1 x Extension Table.
1 x Hard Sided Dust Cover.
1 x Power Cable with Foot Control.
1 x User Manual.
1 x Accessories Kit.
18 x Presser feet: All-Purpose Foot, Zipper Foot, Buttonhole Foot with Underplate, Button Sewing Foot, Blind Hem Foot, Satin Stitch Foot, Open Toe Foot, Overcasting Foot, Darning and Embroidery Foot, Rolled Hem Foot, Cording Foot, Straight Stitch / Quilting Foot, Even Feed / Walking Foot. Bonus Presser Feet (located in the top of the box): Adjustable Bias Binder Foot, Single Welt Cording Foot, Braiding Foot with Guide, Stitch-in-the-Ditch Foot, Fancy Trim Foot, Clearance Place, Presser Foot Shank.
Q
Does this machine have the capacity to handle 3000-yard spools of thread?
A
Yes, it does.
---
Q
Is this machine suitable for free motion quilting/ stippling?
A
Yes, it's ideal. The feed dogs can be dropped and the extension table can be added for a larger working surface.
---
Q
What size bobbin does the Singer 8060 600 sewing machine use?
A
The 15J bobbin.
Imagine you could have your dream sewing machine for under $300. With the top-rated Singer 8060 600 Stitch Computerized Sewing Machine, there is no need to dream anymore – it has everything you want and more.
The Singer 8060 has a mind-blowing 600 built-in stitch patterns. These include 5 fonts and 13 buttonhole styles. Further customization includes stitch elongation and mirror imaging options, and it is now even possible to create your own custom stitch sequences by combining your favorite stitches.
The needle is programmable for up/down positions, and this machine boasts electronic twin needle control. Automatic tension, extra high presser foot lifter and drop feed are built-in too.
For embroidery and quilting enthusiasts, the drop feed feature is a bonus. Other convenient features include automatic threading, and a free arm facility for those hard-to-get-to places like sleeve cuffs and collars.
Design
You might also imagine a dream machine would be huge. Wrong again. This machine is just 17.2 x 8.2 x 12 inches in size. It is designed for sheer sewing pleasure.
Material
User reviews have always applauded the high standard of quality from Singer and the 8060 will not disappoint. Manufactured using premium quality plastic and steel, it is well finished and durable. It also has two Staybright LED lights that remain cool during use.
Where to Buy
eBay is offering the Singer 8060 at $365.78. Known for the best deals around, Amazon pulls out all the stops to bring you this dream sewing machine for just $299.00.