Quick Comparison Table
| | BROTHER | SINGER | BROTHER | SINGER | SINGER |
| --- | --- | --- | --- | --- | --- |
| | | | | | |
| Price | $ | $ | $ | $ | $ |
| Warranty | 25-year limited warranty. | 25-year limited warranty. | 25-year limited warranty. | 25-year limited warranty. | not specified |
| Stitches | 35 stitches | 23 built-in stitch | 17 built-in stitches | 60 built-in stitches | 21 built-in stitches |
| Shipping Weight | 17.9 pounds | 16.6 pounds | 13.9 pounds | 17.1 pounds | 15.2 pounds |
| Amazon FREE Shipping | | | | | |
| | | | | | |
5 Top Rated Sewing Machine Under $100 Reviews
1
Brother XL 3750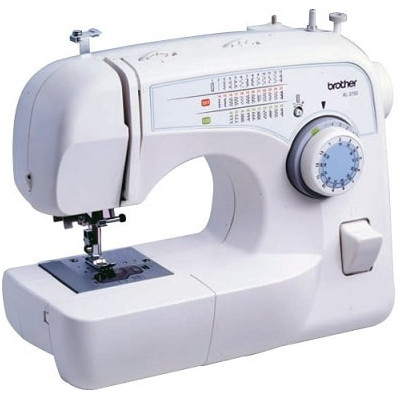 Pros:
This sewing machine is a quilter's dream with twin needle capacity and variable needle position. The transparent bobbin housing is very useful for detecting when your bobbin thread is going to run out.
The Brother XL-3750 carries a 25 Year limited warranty.
Cons:
Use of this machine in countries where 120 V AC is not supported is discouraged, even with a voltage adapter.
Shipping weight – 17.9 pounds.

1 x Brother XL – 3750 Convertible Free Arm Sewing Machine.
1 x Quilting table.
7 x Accessory Presser Feet.
1 x Cloth Carrying Case.
1 x User's Manual.
Q
What does free arm mean, and what are the benefits?
A
Essentially, you can put narrower items over the machine's stitching area, by removing the storage drawer. This reduced workspace improves feed and eliminates the risk of accidentally sewing the top and bottom layers together.
---
Q
Will the XL – 3750 sew heavy denim?
A
No problem. Designed to managed multiple layers of material, it easily manages denim.
---
Q
Please list the seven presser feet that are included with this machine?
A
The machine effectively comes with eight presser feet, if you count the general-purpose foot too. The other seven include a buttonhole foot, zipper foot, button sewing foot, narrow hemmer foot, blind stitch foot, walking foot and the spring action quilting foot. A darning plate is also included.
If you are looking for a versatile, multi-functional sewing machine that is under $100, look no further. Manufactured by top rated Brother, this machine has stolen the hearts of more than 60 percent of purchasers.
One buying guide observed that this machine is jam packed with amazing features that you would expect to find in a more expensive machine. There are 35 stitches, with a staggering 73 stitch functions.
To make the sewing experience as easy and pleasurable as possible, the manufacturers have included some very convenient features, like an auto needle threader, drop-in bobbin, auto bobbin winding and even a one-step auto-size buttonholer.
Other useful features include stitch width and length control which is especially useful for quilters, as is the push button reverse stitching.
Design
The Brother XL-3750 is designed to be portable and with dimensions of 15.4 x 6.7 x 11.5 inches, and an integrated handle for support, you can take it anywhere. This 110V sewing machine is designed to handle all your sewing projects from utility work to decorative and heirloom stitching projects.
Material
This sewing machine is made of quality materials, and user reviews report that it is durable. The white plastic flatbed with a free arm conversion option is lightweight and easy to remove. The metal components are well made, using premium quality steel.
Where to Buy
Walmart has stock of the Brother XL – 3750 available at $134.14. As usual, Amazon offers one of the best deals on this incredibly versatile machine, at just $99.99 with free shipping while stocks last. However, from time to time the price of this machine may go a little above $100 which is still keeps us in the range of $100 budget.
2
SINGER 3333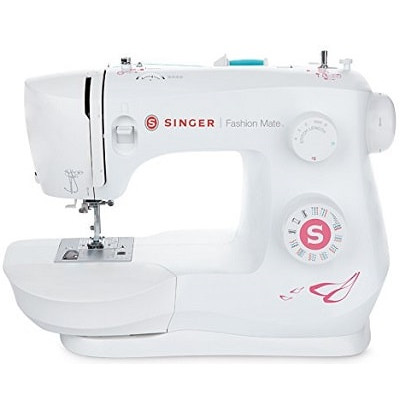 Pros:
The useful LED light illuminates the working area beautifully, and the Singer 3333 Fashion Mate comes with a very respectable 25 Year Limited Warranty. Another innovative feature is the useful Singer App which can be downloaded from Google Play Store and iTunes. Owners of this machine are also entitled to free use of the Singer Owner's Class and user guide videos.
Cons:

Unfortunately, this 110 V machine is designed for use in the US and Canada only.
Shipping weight – 16.6 pounds.

1 x Singer Fashion Mate 3333 Sewing Machine.
1 x All Purpose Presser Foot.
1 x Button Hole Foot.
1 x Button Sewing Foot.
1 x Zipper Foot.
3 x Needles.
3 x Bobbins.
1 x Un-picking Tool.
Q
Can this machine be mounted in a sewing machine cabinet?
A
No, unfortunately, the Singer 3333 is not a mountable sewing machine.
---
Q
Why is this machine shipped with a Spanish Instruction manual?
A
The Singer 3333 is usually shipped with an English User's Guide, however, a few consumers have reported receiving Spanish Guides and the manufacturer has rectified this issue promptly.
---
Q
Can this machine sew denim?
A
Yes, denim is no problem, assuming there aren't more than two layers.
Have you ever wished you owned a sewing machine that would be a perfect fit from your beginner sewing days to your more advanced, accomplished stage? Now you can. The Singer 3333 Fashion Mate Free Arm Sewing Machine is a top-rated machine for under $100.
There are an impressive 23 built-in stitch patterns to choose from, from basic to decorative and stretch stitches. Stitches are displayed on the dial, and can simply be selected by turning the dial.
The top drop-in bobbin with a transparent cover for convenient thread supply monitoring is very useful for uninterrupted sewing.
Other great features include the easy four step buttonholer and adjustable stitch length. User reviews rate the revolutionary built-in needle threader as a winner for obvious reasons.
Design
This machine means business without being intimidating and with dimensions of 16.4 x 7.4 x 13 inches, it is designed to be portable. It is ideal for easy and advanced sewing projects, which is probably why it is so well rated in almost every buying guide.
Material
Despite its compact construction, the Singer 3333 has a heavy-duty frame for skip-free sewing and durability. There is nothing worse than a sewing machine that hops around during use, and you'll never have that problem with this machine. The outer body is made of durable plastic and this sewing machine has a sleek, modern design, with a very appealing minimalistic look.
Where to Buy
The Singer 3333 Fashion Mate Sewing Machine is reputed to be one of the best deals around. It is available from most suppliers at $94.99. However, satisfied customers continue to applaud the exceptional service and lightning fast shipping offered by Amazon, where you can also snag your Singer 3333 now at $ 94.99 while stocks last. Why go anywhere else when you can simply go to the best?
3
Brother JX2517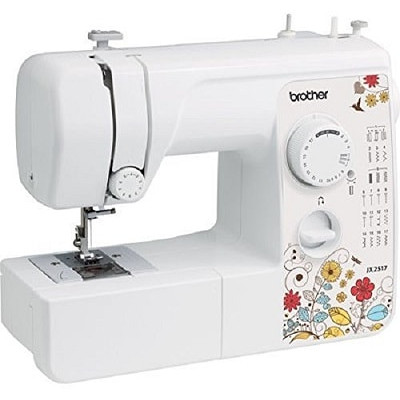 Pros:
The Brother JX2517 is considered an entry level machine that is great for beginners, or people who mainly sew on a casual basis. Surprisingly, it has some great tricks up its sleeve for a machine in under $100 class. For instance, the free arm which can be removed to handle sewing narrow items, like sleeve cuffs. The free arm also has a built-in storage area which is useful for storing spare needles, thread, and other tools. It also has a built-in thread cutter.
One of the best reasons why you can buy this machine with confidence is the top-rated manufacturer's 25-year limited warranty.
Cons:

There is nothing negative about this machine, although one buying guide made a valid observation – there is no automatic needle threader.
Shipping weight – 13.9 pounds.

1 x Brother JX2517Lightweight Sewing Machine.
1 x Buttonhole Presser Foot.
1 x Sewing Foot.
1 x Zipper Foot.
1 x Zigzag Foot.
1 x Needle Set.
1 X Bobbin.
1 X Darning Plate.
1 x Oval Screwdriver.
1 x Power Cord (with foot pedal).
1 x Operator's Manual.
Q
Can you sew knits with this machine?
A
Yes. Just remember that you need specific ball point needles for knits – (75/11-90/14 gold colored), and you may need special thread (50-60) too depending on the fabric.
---
Q
Does this machine have a storage case?
A
No. However, it is shipped in a sturdy box that can be used for storage. Or maybe you could sew a fabric cover as one of your first projects.
---
Q
Can I oil this machine myself?
A
According to the manufacturer, this machine does not require additional oiling. However, a recent review recommends taking it in for a service occasionally – especially if you sew heavier projects like quilts.
Ideal for beginners, crafters, and intermediary level sewers, the Brother JX2517 is a treat. Lightweight and well-designed it is likely going to become your favorite craft buddy.
17 Stitch capacity, including an automatic 4-step buttonhole function, makes the JX2517 the right machine for most of your projects. Additionally, it has 38 stitch functions, and an easy to use blind hem stitch.
It has an impressive maximum sewing speed of 900 stitches per minute. The convenient bobbin winding system and jam resistant drop-in top bobbin housing make life much easier too.
Design
With dimensions of 12 x 5.86 x 15.31 inches and a weight of just 12 pounds, this machine is highly portable. The beautiful floral motifs on the front panel of the machine make it stand apart from other machines in its category.
Material
The outer casing is made of a durable white plastic that is easy to clean. The mechanical components are made using top quality steel, and the machine is sturdy and built to last.
Where to Buy
Sears is offering the Brother J2517 sewing machine at a very respectable $105.62. However, Amazon has stock available at a staggeringly low price of $86.00 with free shipping while stocks last.
4
SINGER 5400 Sew Mate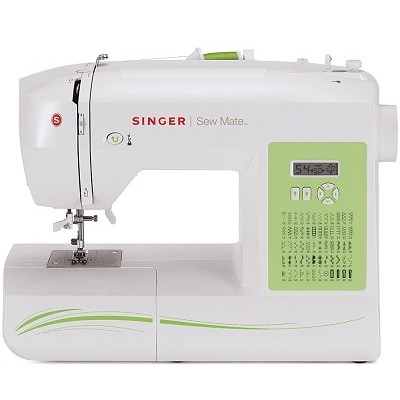 Pros:
The Singer 5400 Fashion Mate makes sewing as convenient as possible with its automatic bobbin winder and needle threader. Selecting stitches is as easy as pushing a button, so deciding which stitch to use will take longer than actually selecting your stitch.
As you've come to expect, top-rated Singer offers a 25-Year limited warranty on this product, so you can buy with confidence.
Cons:

In more than one user review, consumers expressed their disappointment that the Singer 5400 Fashion Mate only uses metal bobbins. Another disappointment is that this sewing machine is 110 V, and consequently, suitable for US and Canadian use only.
Shipping weight – 17.1 pounds.

1 x Singer 5400 Factory Serviced Fashion Mate Sewing Machine.
1 x Pack of needles.
1 x Instruction Manual.
1 x Seam Ripper.
1 x Thread spool cap.
2 x Metal Bobbins.
1 x All-purpose presser foot.
1 x Zipper Foot.
1 x Buttonhole Foot.
1 x Power Cord.
1 x Needle Plate.
1 x Darning Plate.
Q
Where is the bobbin compartment located on this machine?
A
The bobbin is loaded from the front.
---
Q
Can I do smocking with this machine?
A
Yes, with ease.
---
Q
Can this machine sew leather and denim?
A
Yes, it can sew denim, and handle garment weight leather with the correct needles.
More than one buying guide makes the assertion that more people own Singer sewing machines than all other sewing machines combined. The Singer 5400 is a great example of why this is true and packs awesome value in its 16.5" x 8" x 12.5" package.
Better yet, it falls in the 'under $100' category (although consumers are advised that prices are subject to fluctuations in demand and availability, and may exceed this category slightly at the time of reading this review).
This may not seem like a big deal, but if you have sewed before, you'll know the frustration manual tension can cause. So, the automatic tension feature is pure joy. With 60 stitches to choose from, you'll never feel restricted to same-old-same-old again.
There are an incredible 4 button-hole styles available, and they are all fully automatic. The Singer 5400 has an amazing 13 variable needle positions as well as stitch length and width control. This machine also has a very convenient digital display panel which is easy to read.
Design
Designed for versatility and convenience, the 5400 Fashion Mate is portable and well-suited to any project that sewing enthusiasts and crafters could possibly want to undertake.
Material
The interior heavy-duty metal frame lends itself to the stability and durability of the machine. It also ensures perfect alignment of components for precision. The outer casing is made of high-quality, lightweight plastic.
Where to Buy
Sears.com stocks the Singer 5400 Fashion Mate at $155.99 and it is worth every cent. However, Amazon has earned a reputation for always offering the best deals, and a factory serviced Singer 5400 sewing machine is yours for an unbelievable $116.70 while stocks last.
5
SINGER 3221 Simple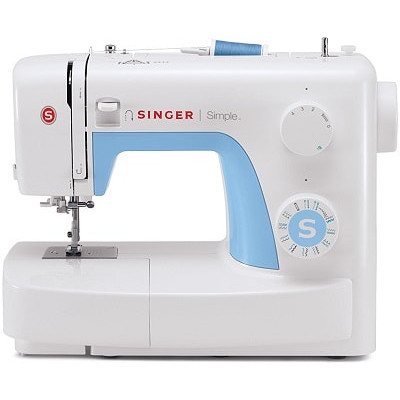 Pros:
The free arm feature on the Singer 3221 sewing machine makes sewing sleeve cuffs, collars and narrow projects a piece of cake. A reputable buying guide endorsed the built-in sewing light as being better than most others, and good illumination is not a luxury when sewing – it is essential.
Cons:

One review by a customer expressed disappointment that the bobbin loads from the front of the machine. Access to the bobbin also requires removal of the storage compartment in front of the free arm. However, this is a conventional configuration.
Shipping weight – 15.2 pounds.

1 x Singer 321 Sewing Machine.
1 x Instruction DVD.
4 x Presser Feet – All Purpose Foot, Zipper Foot, Button Hole Foot and Button Foot.
4 x Class 15 Bobbins.
1 x Seam Ripper.
1 x Instruction Manual.
Q
Is it possible to mount this machine in a cabinet?
A
No, the Singer 3221 is a non-mountable free standing machine.
---
Q
Can this machine sew leather, denim, and canvas?
A
With the right needles the Singer 3221 can manage ordinary denim. However, it is not designed for heavy duty materials like leather and canvas.
---
Q
Does this machine come with a carry case?
A
No, unfortunately not. However, it does come with a soft plastic dust cover.
Singer is a top-rated name in the sewing machine industry. They have been trusted by sewing enthusiasts for decades and keep manufacturing innovative sewing machines that are made to last. The Singer 3221 sewing machine is no exception.
For a machine in the under $100 category, the 3221 offers an incredible 21 built-in stitches. The fully automatic needle threader is a wonderful feature that will save you loads of time and frustration.
Surprisingly, this machine even has adjustable stitch length which reinforces seam strength and helps to prevent the fabric from bunching up. The automatic 1-step buttonhole makes professional buttonholes possible at the touch of a button.
*Consumers are advised that this machine is subject to price fluctuations according to demand and availability. This may result in the Singer 3221 sewing machine costing slightly more than $100 at the time of reading this review.
Design
Dimensions of 16.7 x 13.5 x 9.2 inches make this a very compact sewing machine. As an entry level machine, it is designed to give beginners and intermediary sewers so much scope to learn and create. It weighs just 15 pounds and is highly portable. The Singer 3221 has calming blue accents which complement the white body.
Material
Singer uses the best materials in the construction of their products and the 3221 sewing machine's durable plastic outer cover is evidence of this. The mechanical parts are made using high-quality metal.
Where to Buy
Walmart stocks the Singer 3321 Sewing Machine at $123.66. Amazon's price of $111.99 is an incredible deal that will leave you with a very solid sewing machine and change in your pocket.