Quick Comparison Table
| | SINGER | SINGER | BROTHER | JANOME | BROTHER |
| --- | --- | --- | --- | --- | --- |
| | | | | | |
| Price | $ | $ | $ | $ | $ |
| Warranty | 25-year limited warranty. | 25-year limited warranty. | 25-year limited warranty. | 25-year limited warranty. | 25-year limited warranty. |
| Stitches | 32 built-in stitches | 100-stitch | 130 built-in stitches | 22 built-In stitches | 60 built-In stitches |
| Shipping Weight | 17.1 pounds. | 19.2 pounds | 16.8 pounds | 17.5 pounds | 17.3 pounds |
| Amazon FREE Shipping | | | | | |
| | | | | | |
5 Top Rated Sewing Machine Under $200 Reviews
1
SINGER 4432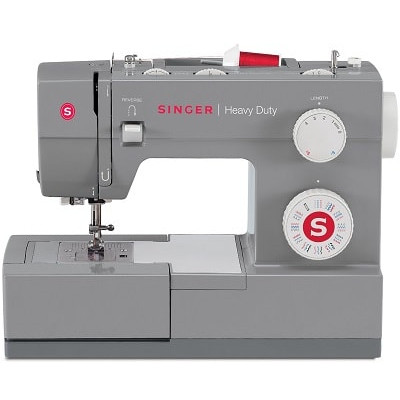 Pros:
The Singer 4432 means business with its 1100 stitches per minute capabilities. This will be useful when it comes to whizzing through the tutorials and new techniques you'll find on the Singer sewing machine app which is downloadable from the Google Play Store or iTunes. Users can buy this machine with confidence with a 25 Year Limited Warranty.
Cons:

There really are no cons for this machine, except maybe that you won't want to stop sewing!
Shipping weight – 17.1 pounds.

1 x Singer 4432 Heavy-duty Sewing Machine.
4 x Pressure feet: All purpose, Zipper foot, Buttonhole foot and button sewing foot.
1 x Seam Ripper/ Lint Brush.
1 x Quilting Guide.
3 x Bobbins.
1 x Set of Needles.
1 x Screwdriver.
1 x Soft-sided Dust Cover.
1 x Instruction Manual.
1 x Power cord with a foot controller.
1 x Quick start guide.
Q
Can this machine be attached to a sewing table?
A
Yes, it can be.
---
Q
Can this machine be used for quilting?
A
Yes. In fact, this machine is a great choice for quilting as it easily handles multiple layers.
---
Q
Does this machine have the capacity to work with twin needles?
A
Yes, it can.
We all know someone who has that machine. The one that worked like a dream from day one and lasted several decades. If you have longed to find a machine like that, the easy-to-use and very versatile Singer 4432 heavy duty, extra-high-speed sewing machine is for you. 74 % of user reviews give it a 5-star rating and a well-respected user guide claims that it is a workhorse.
The Singer 4432's 32 built-in stitches (6 essential, 7 stretch, 18 decorative, and 1 fully automatic 1-step buttonhole) make provision for every imaginable project you could think of. The top-rated automatic needle threader feature is included in this machine too.
There is a top drop-in bobbin compartment with a transparent cover which allows effortless monitoring of thread bobbin supply to avoid running out of thread in the middle of a project. This exceptional sewing machine also comes with a free arm feature for sewing those hard-to-get places, like cuffs and collars.
Design
This is evident in the design of the motor, which is 60% stronger than conventional machines. Surprisingly, its dimensions of 15.2 x 6.2 x 12 inches and a weight of 15 pounds do not make it too bulky or heavy.
Material
With a tough plastic exterior and heavy duty internal steel frame users are assured of a skip-free sewing experience, and unparalleled stability, especially at high speed. The stainless steel bedplate eliminates fabric bunching and facilitates even sewing and smooth fabric feeding.
Where to Buy
On eBay, the 4432 heavy duty sewing machine can be yours for $350.65. It is worth every cent, but Amazon's price of $188.99 makes it possible for you to invest in this heavy-duty masterpiece today. You won't be sorry because this machine has the potential to last you many decades.
2
SINGER 7258 Stylist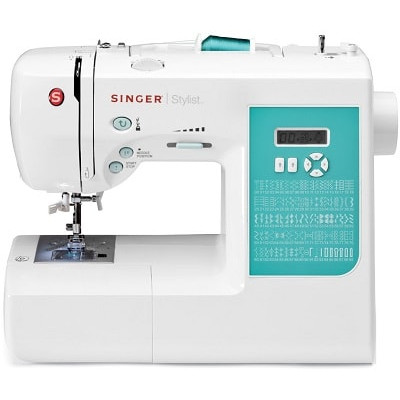 Pros:
There is so much to get excited about on the Singer 7258 and in more than one buying guide, the programmable needle makes headlines. Added to this, is the push button stitch selection and the bright, long-life LED sewing light that stays cool no matter how long it is on for. This list would be incomplete without mentioning the incredible 25-year limited warranty that top rated Singer has become known for.
Cons:

This sewing machine is 110 Volt and is designed for use in the United States and Canada only.
One user review mentioned that the feed dogs cannot be lowered, and that the plastic feed dog covers take some getting used to.
Shipping weight – 19.2 pounds.

1 x Singer 7258 100 Stitch Computerized Sewing Machine.
10 x Presser Feet (zigzag/all purpose, buttonhole, zipper, rolled hem, blind hem, darning and embroidery, overcast, straight stitch, gathering, satin stitch/straight stitch).
1 x Instruction Manual.
1 x Seam Ripper Tool.
1 x Set of Spool Caps, Pins and Felts.
1 x Screwdriver.
1 X 69 Inches Long Power Cable.
Q
Does this machine come with a carry-case?
A
No, but it does come with a thin vinyl dust cover.
---
Q
Does this machine come with an instructional DVD?
A
Yes, and if user reviews are anything to go by, it is awesome!
---
Q
Is it difficult to set the tension on this machine?
A
No, it couldn't be easier because the Singer 7258 has auto tension.
The Singer 7258 has won the Consumers Digest award twice. Simply put, it is an outstanding combination of ease of use, performance, quality construction, great warranty, efficiency, styling and excellent maintenance and service.
Almost every buying guide testifies to this and it is easy to see why this machine is perfect for crafting, sewing and quilting. What is surprising, is that this machine comes in at under $200!
The Singer 7258 sewing machine has an incredible range of 100 stitches and 10 presser feet to give users unlimited options. Its 7 automatic buttonhole options are perfectly sized to ensure quick professional results.
The revolutionary automatic needle threader is included, as is the easy-to-load top drop-in bobbin system with a clear cover for hassle-free bobbin thread monitoring. The LED display screen is marvelous because it allows quick and easy stitch selection.
Automatic stitch length and width adjustment gives users unprecedented versatility and the electronic auto pilot technology allows speed control sans the foot pedal.
Design
14.5 x 7.5 x 12 Inches in size, make the Singer 7258 a compact sewing machine. Designed for convenience and sheer sewing pleasure, it also has a free arm for sewing hard-to-get areas and includes a handy storage compartment.
Material
The heavy-duty metal frame provides a sturdy skeleton for a machine that reviews applaud for it's steady, quiet performance. The outer casing is made of high-quality plastic, and the turquoise accents make this a very attractive machine.
Where to Buy
The Singer 7258 is available from Sears at $199.99. If you are looking for the best deal on this phenomenal sewing machine, then Amazon is happy to oblige you at $179.00.
3
Brother HC1850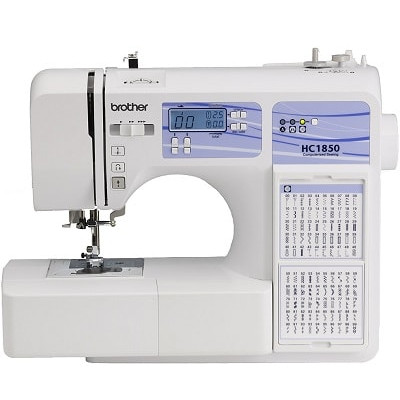 Pros:
The convenient built-in flip chart offers an easy reference of all 130 stitches and Brother has made free phone support available to users for the life of the product. The Brother HC1850 is also capable of free motion quilting which, according to one buying guide, gives users total versatility.
Cons:

Even with the use of a voltage adapter, this machine is not recommended for use in countries that do not support 120V AC.
Shipping weight – 16.8 pounds.

1 x Brother HC1850 Computerized Sewing Machine.
1 x Set of Presser feet including a Zigzag foot, Overcasting foot, Monogramming foot, Zipper foot, Blind stitch foot, Buttonhole foot, Button sewing foot, and Quilting foot.
1 x Accessory pouch containing: 3 bobbins, 3-piece needle set, ball point needle, twin needle, cleaning brush, eyelet punch, screwdriver, 3 spool caps, extra spool pin, and seam ripper.
1 x Wide table.
1 x Foot Pedal Controller.
1 x Bilingual English/ Spanish instructional DVD.
1 x Bilingual English/ Spanish operation manual.
Q
Can the size of the monogram letters be increased?
A
Yes, you can change the size by altering the stitch size.
---
Q
Does this machine work without its foot pedal?
A
Yes, the start/stop button gives users the option of working without the pedal.
---
Q
Can you add additional fonts for embroidery?
A
No, this is not an embroidery machine and the built-in monogram stitch is a bonus feature.
The Brother HC1850 Computerized sewing machine may be one of the most versatile and easy to use machines on the market, but it will boggle your mind on several scores. For instance, it is mind boggling that such a compact machine can contain so many features, and even more unbelievable that it can be yours for under $200!
The large LED display, with push button stitch selection, makes choosing your stitches child's play. Furthermore, the built-in monogramming font with A-Z, 0-9 and 7 punctuation marks and 8 special symbols is a treat.
Additional features like the convenient speed control, automatic needle threader and top drop-in bobbin compartment with transparent cover will save you time and frustration. The HC1850 also comes with a wide table for larger projects like quilts.
Design
Just 16.3 x 7 x 12.5 inches in size, this 10.01-pound sewing machine's design is applauded in user reviews. With 130 built-in stitches and more features than most sewing enthusiasts could dream of, this machine is perfect for beginners and adept hands alike. It will make your sewing, quilting and monogram projects a pleasure every time.
Material
Top rated manufacturer Brother is known and respected for their use of premium quality materials. Their outstanding 25-year limited warranty testifies to this.
Where to Buy
The Brother HC1850 Sewing Machine can be found at most outlets for around $247.00. True to form, Amazon cuts you the best deal possible at just $190.00.
4
Janome Hello Kitty 15822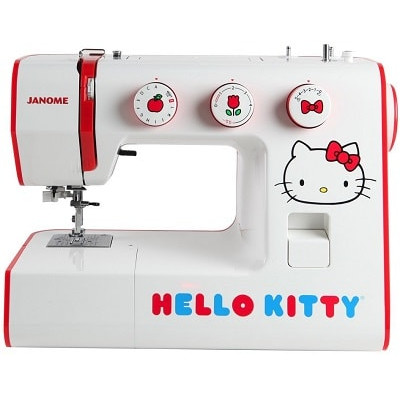 Pros:
The 15822 Hello Kitty machine has extra-high presser foot lift capabilities, which is very helpful when sewing multiple layers. This sewing machine also boasts an easy-to-use bobbin winding feature, which saves loads of time.
Cons:

The front-loading bobbin compartment is located behind the accessory storage. So, accessing the bobbin requires removal of the storage bin and usually results in the contents spilling out.
Shipping weight – 17.5 pounds.

1 x Janome 15822 Hello Kitty Sewing Machine.
1 x Power cord and foot control.
1 x Free arm.
1 x Set of bobbins.
1 x Instruction Manual.
Q
Is this machine made in China?
A
Actually, the machine was designed in Europe, developed in Japan and is manufactured in Thailand.
---
Q
Is this machine a toy?
A
No. On the contrary, it is a serious adult sewing machine that delivers solid performance.
---
Q
Is there a legend or index to indicate which letters stand for specific stitches?
A
Yes, there is a flip-up panel on top of the machine that details the stitches and corresponding letters.
Sewing should be fun and Janome apparently understands this. Their decision to go with Hello Kitty designs on some of their adult sewing machines was a risk because it could mislead people into thinking the machine is a toy.
However, most user reviews mention that the Hello Kitty decals make them smile every time they use their machines. That is not all they smile about because there is truth in the assertions of a recent buying guide: this machine is a legitimate adult sewing machine.
This cheerful looking machine has many features to smile about too. The built-in needle threader makes life so much easier, as does the one-step buttonhole facility. With 22 stitches to choose from, users have a wide scope of options to unleash their creativity.
For the difficult to reach sewing areas, the free arm is a huge benefit, with the bonus of an accessory storage compartment. In a recent user review, the Janome 15822 was commended for its smooth, precise stitching and guiding. Other users concur – this machine delivers great work.
Design
That is not to say the 15822 Hello Kitty sewing machine is not also a great choice for children to start sewing on under supervision. Its compact dimensions of 19 x 12x 18 Inches make it a highly portable machine, however, reviews concur that it is sturdy. It's colorful Hello Kitty Design has enormous appeal to adults and children alike and Janome has clearly created a winner.
Material
Top rated manufacturer Janome, has also built a reputation for making premium products using quality materials. The 15822 Hello Kitty sewing machine is no exception.
Where to Buy
Sears offers the Janome 15822 Hello Kitty Sewing Machine for $195.99. While Amazon lives up to its reputation for offering the best deals, with an unbeatable price of $163.23.
5
Brother CS6000i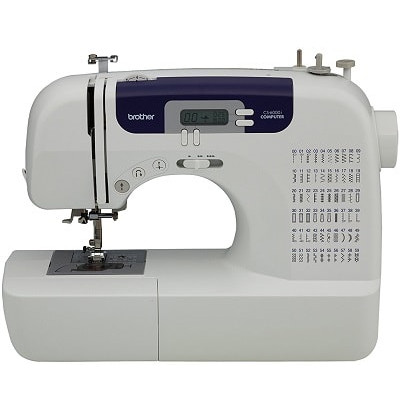 Pros:
The Brother CS6000i has a built-in bobbin winding feature to save time. Another convenience is the top drop-in bobbin housing with a clear cover.
Cons:

Use of this machine is not recommended in countries that do not support 120V AC, even with a voltage adapter.
Shipping weight – 17.3 pounds.

1 x Brother CS6000i Computerized Sewing Machine.
9 x Accessory feet: Walking foot, Spring action quilting foot, Overcasting foot, Monogramming Foot, Zipper foot, Zigzag foot, Blind stitch foot, Buttonhole foot, and Button fitting foot.
1 x Accessory pouch with seam ripper, needle set, cleaning brush, screwdriver, 3 spool caps, spool pin, 3 bobbins, and an eyelet punch.
1 x Power cord.
1 x Operator's Manual.
1 x Protective Hard Case.
Q
Is this machine recommended for a beginner?
A
Absolutely. The Brother CS6000i will last from your journey as a beginner to an intermediate seamstress and the features will inspire you to keep learning and trying new things.
---
Q
Will this machine manage quilting projects?
A
Indeed, it will. Satisfied users report sewing up to three quilting layers with ease.
---
Q
Can the needle be programmed to stop in the up position?
A
Yes, although the default setting is needle down, it can be set to finish with the needle up.
You may be under the impression that a price range under $200 cannot yield a versatile computerized sewing machine. The Brother CS6000i sewing machine is here to prove you wrong. Many user reviews describe this as a dream machine that is perfect for quilting and a myriad of other practical and creative projects.
It's hard to believe that a machine in this price category offers so much value, but the Brother CS6000i has 60 built-in stitches and comes with 7 one-step buttonhole options. The LED display makes selecting your stitches as easy as pushing a button and adjusting stitch size is just as easy.
Sewing speed can also be conveniently controlled via a convenient slide on the face of the machine. Also on the face of the machine, you'll find a helpful threading guide, and threading the needle happens automatically without any fuss or frustration.
The free arm makes access to tight sewing areas like sleeve cuffs and collars no obstacle at all and doubles as a handy storage compartment. This sewing machine's wonderful extension table attachment has caught the attention of more than one buying guide and you'll agree that is invaluable when it comes to sewing larger projects.
Design
The CS6000i is surprisingly lightweight at just 13 pounds. 16 x 6.7 x 11.4 Inches in size, make this machine sturdy but easy to manage and the protective hard carry case that comes with the machine makes it very portable and convenient to store.
Material
Brother is known for premium quality machines and the CS6000i sewing machine is consistent with this reputation. Crafted from the highest quality materials, consumers can invest in this brilliant sewing machine with confidence.
Where to Buy
Walmart has the Brother CS6000i Computerized sewing machine on offer at $188.45. Top rated Amazon outshines the competition on this one, with an incredible price of $149.99.