With the booming technology comes the production of serger sewing machines in various brands, models and prices. Often dubbed as an overlocking sewing machine, it is designed to trim and enclose an edge or seam allowance within a thread casing at once.
Quick Comparison Table
Choosing the best serger sewing machine for home use can be a daunting task because there are many available models and brands on the market today. Some brands are more reliable than others.
On the other hand, there are those that are added with extra features to make them more durable and user-friendly. We have done a thorough research and come up with a buying guide with reviews of top rated serger sewing machines to help you pick the best choice.
How to Choose the Best Serger Sewing Machines on the Market?
A highly-rated brand on the market does not guarantee you that it is the best choice for you. There are expensive machines that sometimes fail to live up to their promise.
You need to weigh things properly and be wise in making a final decision. Consider the following factors when selecting a serger sewing machine for sale.
Ease of Use
One of the deciding factors is the ease of use of a machine. These days, computerized serger sewing machines are easy to use because they are specifically designed to be user-friendly.
You may check various serger reviews and compare different models. Whether you are a newbie or an expert in using a serger, you should opt for a machine that is both easy to thread and simple to use.
Automatic Threading
If you want to save time and are a beginner in using a serger sewing machine, it would be wise to choose a machine that is designed with an automatic threading. This particular feature works by using air in order to push the thread through the serger.
Number of Threads
In most cases, serger sewing machines have four number of threads. They are the most common choice among users. On the other hand, there are limited machines that only feature two or three threads.
Most of the simple sewing tasks can be done with the use of a 2-4 thread machine. For your convenience, it is best to opt for a serger machine with at least five threads so that you have available thread for stretchy fabrics.
Number of Stitches
Before you make a purchase, make sure you are aware of how many stitches the serger machine has. It is important to consider this particular feature and buy a machine with numerous stitches. A good option is a serger machine that is able to manage curved stitches.
Differential Feed
For a more professional quality result, choose a machine with a differential feed. It allows users to work with silky or light fabrics. Another thing is, you need to check if the machine is able to handle heavyweight fabrics. When it comes to working on heavy fabrics, differential feed can help the stitch stretch.
Attachments
When you shop for serger machines, ask if the product is offered with any upgrades or attachments. You need to determine if there are added features or accessories that come with the product. Whatever available attachment there is, it must fit the user's specific needs.
Budget
When purchasing serger sewing machines on the market, the price or cost of a product is an important consideration to take. When you buy a serger, make sure it matches your budget.
However, if the price is right and the machine comes with the features you need, it is never wrong to invest in a good serger machine. To be able to find an affordable and reliable brand, it would be best to compare various serger reviews you can find online.
5 Top Rated Serger Sewing Machine Reviews
1
Brother 1034D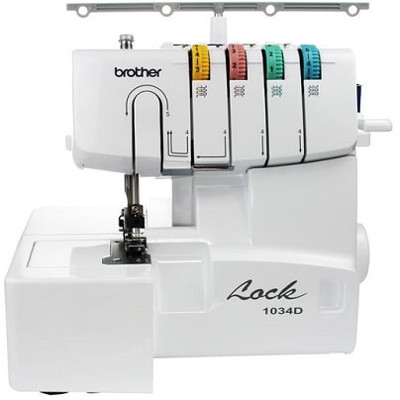 Pros
The machine is reasonably priced
The tension is easy to set
Everything is marked by numbers and colors for easy threading
The machine comes with an excellent durability and performance
Cons
Some users complain the machine operates too loud
It is unable to do a chain stitch
Multi-purpose guide foot
Foot controller
Softcover
Instructional CD
Gathering foot
Operational manual
Accessory bag
Q
Does it do a cover stitch?
A
No, it doesn't. The machine is not designed to perform a cover stitch.
---
Q
Where to buy?
A
The product is available on Amazon and other e-Commerce websites.
---
Q
What kind of thread should I use?
A
You can use a variety of threads – embroidery thread, serger thread and even a regular thread.
The Brother 1034D features a convenient differential feed control and stitch-width control, allowing users to sew beautiful fabric patterns with ease. It is able to trim excess fabric, overcast raw edges and sew seams with excellent speed. With a product dimensions of 10.83 x 13.18 x 11.73 inches, the Brother 1034D comes with two needles and three-four thread.
Its versatile stitch options give you the freedom to select from four thread overlock, ribbon lock stitches, rolled hem, narrow hem and three thread overlock. The machine is easy to use due to its color-coded threading. On the other hand, its stitch width can be adjusted with ease between 3mm to 7mm.
It has a presser foot pressure adjustment dial. This serger sewing machine is designed with a two-point thread tension control device for a smooth delivery of thread. On the other hand, it has free arm for sewing sleeves and cuffs. Its retractable knife helps in preventing accidents such as cutting the fabric when working close to rolled hem edges.
The Brother 1034D Serger has a built-in storage for keeping different accessory tools. The machine is sold with a 25-year limited warranty.
2
Singer 14CG754 ProFinish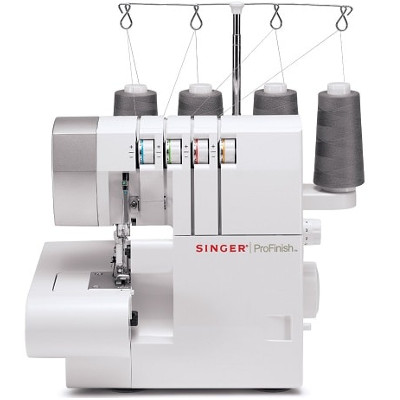 Pros
It is affordably priced
It comes with efficient features and capabilities
The machine is simple and easy to use
Cons
Its warranty for machine parts and labor is only 90 days
Some users complain that they could not easily thread the machine
Needle set
All-purpose foot
Screwdriver
Foot control
Power cord
Instructional manual
Machine intro DVD
Spreader
Q
Does it come with a warranty?
A
Yes, it does. 25-year warranty for manufacturer's defects.
---
Q
Where to buy?
A
You can purchase the SINGER 14CG754 Serger on Amazon and other e-Commerce websites.
---
Q
What's the product dimensions of the machine?
A
14 x 11 x 11.5 inches.
The SINGER 14CG754 ProFinish is designed with the capability to do various stitch options. For a professional look, the machine includes 4 integrated rolled hems. The machine takes pride of its 6 different stitch types. Meanwhile, the maximum speed of the serger is 1,300 stitches per minute.
You can easily adjust the tension for sewing various fabric types. On the other hand, it is designed with a moveable upper knife in order to avoid trimming of fabric or material while sewing. The Extra-High Presser Foot Lifter gives you added clearance when placing many layers of materials or fabrics under the presser foot.
Its easy-to-adjust differential feed allows users to create excellent seams on various fabrics without worrying about bunching or puckering. Another interesting feature about the SINGER 14CG754 is its adjustable stitch, which allows you to adjust the tension, length and width of a stitch.
The model takes pride of its color-coded threading system so that it would be easier for users to set up, change threads, organize and thread. On the other hand, its free arm allows easy sewing of pant legs, sleeves, cuffs and other cylindrical pieces.
3
Janome MOD-8933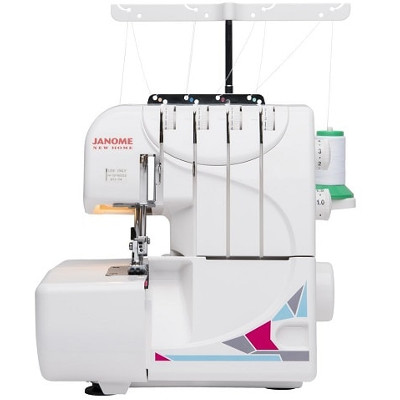 Pros
It is simple and easy to use
It is lightweight and easy to set up
It comes with adjustable features
It is affordably priced
Cons
4 pools of thread
Instructional DVD
Screwdrivers
General purpose presser foot
Tweezers
Power cord
Foot controller
Instructional manual
A set of serger needles
Q
Does it come with a warranty?
A
Yes, it does. The product offers 25-year Limited Manufacturer's Warranty.
---
Q
Where to buy?
A
The Janome MOD-8933 Serger is available on Amazon and other online stores.
---
Q
What's the maximum speed of the machine?
A
The Janome MOD-8933 Serger is able to do 1,300 stitches per minute.
Janome MOD-8933 Serger comes with 3 and 4 thread options, giving you the freedom to select the most suitable setting for the specific fabric you are using. The garments can fit easily and naturally due to the integrated flexibility inside the overlock stitches.
On the other hand, the easily retractable upper knife of the machine allows users to serge without cutting the fabrics. Threading is easier and safer with the serger's retractable upper knife.
The Janome MOD-8933 Serger's differential feed helps in preventing puckering and stretching on all types of fabrics. Moreover, the machine is designed with a quick change rolled hem and an adjustable presser foot pressure for a hassle-free threading.
4
Juki MO654DE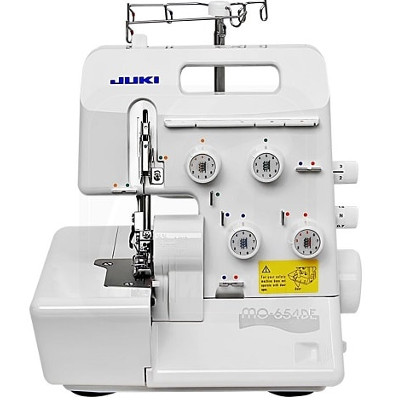 Pros
It is a user-friendly serger sewing machine
It is easy to clean
It is compact and lightweight
It comes with a safety switch
Cons
It does not have a free arm
Some users complain that sometimes the serger machine does not stay threaded after set up
Instruction manual
Presser foot
Screwdrivers
Needle pack
Tweezer
Foot control and power cord
Accessory pouch
Needle threader
2/3 thread selector
Guide bar
Thread nets
Q
Where to buy?
A
The JUKI MO654DE is available on Amazon and other online stores.
---
Q
What's the product dimensions?
A
10.6 x 13.6 x 11.6 inches.
---
Q
Does the machine have a built-in thread cutter?
A
Yes, it does.
With the ability to do 1,500 stitches per minute, the JUKI MO654DE is a portable serger sewing machine specifically designed with a 2 3 4 thread capability as well as an automatic rolled hem stitching. For your convenience, the machine has adjustments for stitch length and differential feed.
On the other hand, it has a multipurpose foot for various specialty stitches and products. You'll find it easier to thread due to its color-coding system and breakaway looper. The machine's differential feed helps in stopping stretchy and thin fabrics from being pulled out of shape.
The JUKI MO654DE Portable Thread Serger Sewing Machine is made with a powerful knife system. This particular feature is useful for safety and simplicity. The knife adjustment is calibrated in order to provide consistent response.
Moreover, the serger machine has a built-in tape guide for easier way of sewing seam in stretchy materials. The product comes with a 90-day limited warranty period.
5
Brother 3234DT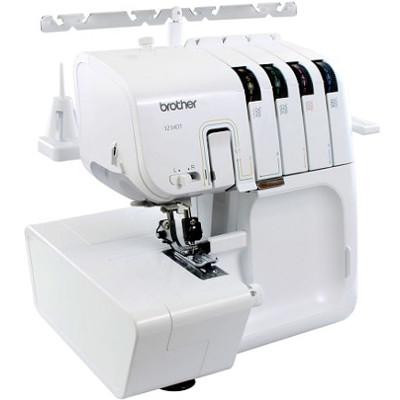 Pros
It is easy to learn and use
It is easy to thread
It is simple and easy to clean
Reliable, high performance machine
Cons
It cannot do double chain stitch and cover stitch
Soft cover
Instruction DVD
Foot controller pedal
Instruction manual
Thread change assembly
Wide table
Stitch finger 'W'
Trim trap
Hexagonal driver
Cleaning brush
Tweezers
4 thread nets
Accessory bag with needle set
4 thread spool caps
Q
What is the maximum sewing speed of the machine?
A
It can do 1,300 stitches per minute.
---
Q
Where to buy?
A
The Brother 3234DT is available on Amazon and other online stores.
---
Q
Does it have a warranty?
A
Yes, it does. Product warranty: 25-year limited manufacturer's warranty on chassis casting, 5-year limited manufacturer's warranty on all electronics, electrical components and printed circuit boards of the machine, 1 year warranty on all parts, labor and accessories.
The Brother 3234DT is a high performance serger sewing machine that is able to deliver professional edge finishing on various types of fabrics. With this machine, you can make decorative edges and ruffles as well as join laces and serge narrow sleeves. It is versatile enough to allow users to make creative stitches.
Plus, it is able to work on delicate fabrics. The machine has gained a good reputation among amateurs and professional sewers. It is able to operate flawlessly for a longer period. With its differential feed, it allows you to make different functional and decorative seam effects.
Another good feature of this product is its adjustable stitch length and width. The Brother 3234DT can be adjusted between 0.8 to 4.0 millimeters. On the other hand, its free arm gives you ease in creating pant legs and shirt sleeves.
Moreover, the Brother 3234DT has a detachable wide table, allowing you to work on larger fabrics and projects with ease. Aside from this, there is a four-compartment accessory storage underneath the table so that you can keep your sewing accessories after use.
Final Thoughts
After giving you some facts and details about some of the best serger sewing machines today, you probably have a specific brand in mind. For you to be able to choose the model or unit that suits your needs, it is best to make a comparison among the serger sewing machines you can find on the market.
Nowadays, you can find a sewing machine and serger combo at an affordable price. Many machine manufacturers regularly update the features of their products in order to keep up with the competition. Always choose quality over everything else. The best serger machine is the one that fits your specific needs and is worth every penny you spend.