Quick Comparison Table
| | Juki | Juki | Brother | Singer | Janome |
| --- | --- | --- | --- | --- | --- |
| | | | | | |
| Price | $ | $ | $ | $ | $ |
| Warranty | Not specified | 5 year limited warranty | 25 year limited warranty | 25 year limited warranty | 25 year limited warranty |
| Dimensions | 25.7 x 14 x 18 inches | 17.8 x 8.6 x 13.8 inches | 25 x 11.8 x 14.8 inches | 20 x 9 x 14 inches | 13 x 26 x 18 inches |
| Weight | 37.9 pounds | 37.8 pounds | 33.4 pounds | 31.5 pounds | 36.2 pounds |
| Speed rating | 1500 stitches per minute | 1500 stitches per minute | 1500 stitches per minute | 1600 stitches per minute | 1000 stitches per minute |
| Free shipping | | | | | |
| | | | | | |
5 Top Rated Quilting Sewing Machines Reviews
1
Juki TL-2010Q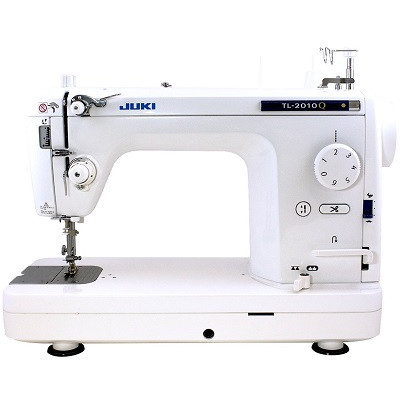 Pros:
The innovative needle stop positions at a great feature. The machine stops with the needle down, which is perfect for free-motion quilting. However, when the thread cutter is used, the needle goes up, to allow you to simply release your fabric using the knee lifter.
Cons
A con unique to this brand is that it needs to be oiled in six different places each time you use it. However, most reviews do not consider this a deal-breaker and it's a quick habit to form.
Other cons include the fact that it only has straight stitch capability and that you can only use one needle. The manufacturer makes no apologies for this – the Juki TL-2010Q is specifically designed as a quilting machine and these aspects of the machine are exactly what make it one of the best quilting sewing machine choices.
Shipping weight – 37.6 pounds.
1 x Juki TL-2010Q Straight Stitch Quilting Sewing Machine.
1 x Power Cable with Foot Controller.
1 x Large Workspace Extension Table.
Q
Is a darning/ free-motion foot included with this machine?
A
Yes, two darning feet are included.
---
Q
What is the throat size of this machine?
A
It is a very spacious 6"x 9".
---
Q
Is the Juki's needle programmable?
A
Yes, it is possible to select needle up/ down preferences, although it has innovative defaults.
If you are in the market for a top-rated quilting sewing machine that consistently delivers professional results, meet the Juki TL-2010Q. Without exception, every buying guide raves over this machine. Not because it is computerized and has 200 stitches – it doesn't have any of those features. It simply creates even and precise straight stitches – up to 1500 of them per minute! Read on to see why this machine puts stars in quilters' eyes.
Easy bobbin winding and replacement alleviate all fears of bobbin woes and the feed dogs have essential drop feed capability. The knee lifter provides convenient hands-free pressure foot lifting. The Juki TL-2010Q allows users to adjust stitch length and has a back-stitch facility for securing finishes.
Design
Do not be fooled by the Juki's unpretentious all-metal façade. Although it's created for home use, this mechanical machine is classed as semi-industrial. With dimensions of 25.8 x 17.9 x 14.2 inches, you could rightly expect that the Juki TL-2010Q is a sturdy machine. However, reviews confirm it's still portable. The huge sewing table is a great innovation which easily accommodates even the biggest quilting projects.
Material
There is nothing flimsy about the Juki TL-2010Q. Its all-metal composition provides a precision and durability that has won the hearts of quilters around the globe. It boasts premium quality that is worth the price.
Where to Buy
Walmart's listing price for the Juki TL-2010Q is $999.00. However, Amazon's amazing deal of $898.00 will have you quilting to your heart's content in no time.
2
Juki TL-2000Qi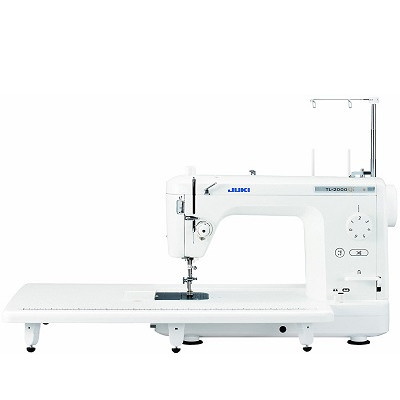 Pros:
The top-rated Juki brand is widely considered the best choice in serious quilting machines, for their innovative and creative design. A prime example of this is that the presser foot can be raised as high as 12mm via the knee lifter and 9mm using the lever. In addition to this, presser foot pressure is also adjustable via a regulator at the top of the machine.
The Juki TL-2000Qi's drop feed function is activated easily at the push of a button.
Cons
You would be hard pressed to find a buying guide that has something negative to say about this remarkable machine. Reviews concur – the only negative is the price because you need to save longer. However, it's worth every cent.
Shipping weight – 37.8 pounds.
1 x Juki TL-2000 Qi.
1 x Instruction Manual.
1 x Power Cable with Foot Controller.
1 x Pack of Accessories.
1 x Oiler.
4 x Presser Feet: Even Feed Foot, 1/5″ Quilting Foot, Compensating Presser Foot, and Standard Presser Foot.
1 x Extension Table (12" x 18").
Q
Does this machine do buttonholes?
A
No, it only does straight stitches.
---
Q
How does this machine handle lightweight materials?
A
Very well, provided the correct needles are used.
---
Q
Does the bobbin load from the top on this machine?
A
No, the Juki TL-2000 Qi's bobbin loads from the front.
Strictly speaking, the Juki TL-2000Qi quilting sewing machine is not a sewing and quilting combo because it only does straight stitch. However, all serious quilters know – that's all that counts. Besides, this machine has a lot more to love…
The manufacturer knows you have better things to do than spending frustrating time trying to thread your needle, so the automatic needle threader is awesome. Also included is an automatic thread cutter which can be operated from the foot controller, as well as a button which cuts both the top and bottom threads.
This machine's innovative needle behavior is also great for quilting, as it always stops with the needle down so that you can swivel your fabric as desired. The needle up/ down button can be used for user preferences. Although this is not a computerized machine, the speed control mechanism is regulated by a microcomputer for efficient feeding and slower speeds for thicker materials.
Design
You could be forgiven for assuming a semi-industrial machine that delivers professional standard stitching at a rate of up to 1500 stitches per minute, would be heavy. The large work area reinforces this impression. However, designed specifically for home use, the Juki TL-2000Qi is surprisingly lightweight and portable, with dimensions of 17.8 x 8.6 x 13.8 inches.
Material
Largely owing to its Aluminum die-cast body, this machine is ultra-durable. This means it's heavy enough to boast low-vibration even at high speeds and sturdy enough to always deliver accurate feed and perfectly aligned stitches.
Where to Buy
Sewingmachinesplus.com. has the Juki TL-2000Qi for sale at $849.00. However, if you avail yourself of Amazon's incredible price of $719.00, you'll even have change for fabric and goodies for your first quilt.
3
Brother PQ1500SL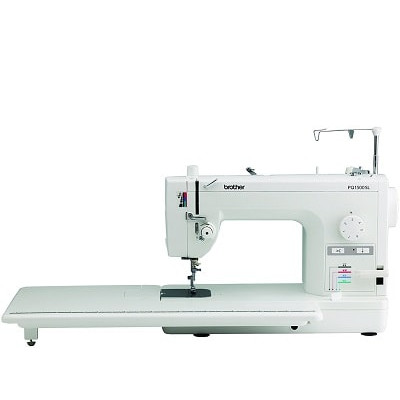 Pros:
A maximum output of 1500 stitches per minute, makes the Brother PQ1500SL a force to be reckoned with. Not to mention the innovative adjustable pin feed mechanism which is an alternative to the four built-in feed dog settings for maximum fabric control. This gives users unprecedented freedom to apply their personal quilting preferences.
Cons
Multiple reviews highlight the importance of ensuring that this machine is correctly threaded. Some users have complained that their threads have bunched. However, this is easily corrected with proper threading and use of the correct threads.
Shipping weight – 33.4 pounds.
1 x Brother PQ1500SL Straight Stitch Sewing Machine.
1 x Power Cord with Foot Controller.
1 x Owner's Manual.
1 x Includes 12"x 18″ Extension Table.
7 x Presser Feet: Straight Stitch Sewing Foot, Rolled Hem Foot, Adjustable Zipper Foot, Invisible Zipper Foot, Walking Foot, Quarter Inch Foot, and Spring Action Quilting Foot.
Q
Can this machine cope with many layers of fabric?
A
Absolutely. It is designed especially for quilting and handles thick layers without hesitation.
---
Q
Does this machine have a speed regulator?
A
No, speed is regulated by the operator using the foot controller.
---
Q
How big is the throat space on this machine?
A
It is a very spacious 9 inches, making it great for bulky projects.
Top rated quilting sewing machines usually come at a high price. So, it's not every day that you get a product by one of the best manufacturers that is highly affordable. Enter the Brother PQ1500SL.
Reviews cannot agree on whether this is a legitimate sewing and quilting combo machine because, despite its outstanding quilting capabilities, it only has a straight stitch. 'Only" is perhaps deceiving because the many awesome features of this machine have won the praise and appreciation of many users.
Time-saving conveniences like an auto thread trimmer, auto needle positioner and the knee lever for hands-free control of the presser foot lift, are just a few of the features that make this machine so popular. Others include the built-in automatic needle threader, convenient thread tension dial and retractable drop feed dog control.
Design
Designed primarily for home use, the PQ1500SL is just 25 x 11.8 x 14.8 inches in size. This machine is not computerized, but instead, it is jam packed with essential features that make quilting a pleasure. Not surprisingly, more than one buying guide sings the praises of this machine's professional-standard performance.
Material
Brother is a brand that is synonymous with premium quality. Backed by the manufacturer's 25 Year Limited Warranty, this machine is built to last for many years of hassle-free sewing pleasure. Manufactured using top quality materials, and well finished, the durable PQ1500SL is made to last almost as long as your quilts, if not longer.
Where to Buy
Joann.com lists the Brother PQ1500SL Straight Stitch Sewing Machine at $699.99. However, Amazon has the best deal all stitched up just for you at $667.66 while stocks last.
4
Singer Studio S16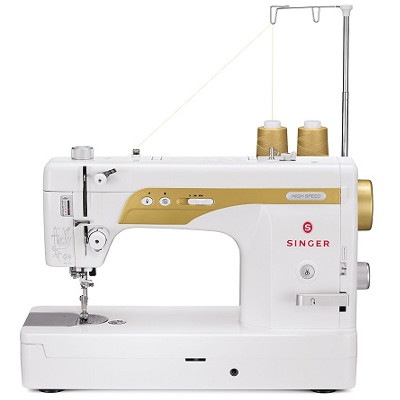 Pros:
The intuitive presser foot sensor ensures correct positioning for a smooth start every time and boasts additional features like extra clearance/ height on the presser foot, as well as adjustable pressure for varying fabric thickness.
Perhaps the most unique feature of this brilliant machine is the independent bobbin winding system. There is no need to stop sewing when you need to replenish your bobbin thread, because the bobbin winder can operate simultaneously, saving you time and effort.
Cons
More than one buying guide has pointed out that threading is complicated initially. However, with practice, it becomes quick and easy.
Shipping weight – 38.6 pounds.
1 x Singer 16 Studio.
1 x Power Cable with Foot Controller.
1 x Knee Lifter.
1 x User Manual.
1 x Soft-Sided Dust Cover.
1 x Instruction manual.
1 x Accessory Kit.
4 x Presser Feet: All-Purpose Foot, Quarter Inch Foot, Free-Motion Foot, Narrow Rolled Hem Foot, and Darning Plate.
Q
Does the Singer S16 only accommodate large thread spools?
A
No, a wide variety of spools can be used and additional spool caps are included.
---
Q
Does this machine have an auto stop/ start button?
A
No, you have to operate the machine from the foot controller.
---
A
Will industrial feet for a Juki fit this machine?
A
Yes, they fit perfectly.
The Singer S16 Studio Straight Stitch Quilting Sewing Machine is, in a word, awesome. Every buying guide will tell you that it is a quilter's dream and so is the price.
Reviews rave over all aspects of this straight sewing and quilting combo machine. Precise stitches and great fabric handling are just two of the hallmarks of this machine. It comes complete with an auto needle threader and the needle is programmable. Another bonus feature for quilters is the convenient knee lifter that allows hands-free presser foot lifting, and leaves both your hands-free for manoeuvring your project.
Reverse stitching is activated via a button and speed control can be adjusted from the handy slider on the face of the machine. The auto thread trimmer is loved by all sewing enthusiasts and conveniently trims both top and bottom threads at the push of a button. The Singer S16 has side bobbin loading into a full rotary bobbin system. For the top thread, the S16 Studio's extendable thread guides are perfect for extra-large spools. This machine also has an adjustable thread tension feature.
Design
While many users invest in the S16 Studio machine for home use, this is a legitimate industrial strength sewing machine, which delivers professional results. With dimensions of 20 x 9 x 14 inches and a weight of 31.5 pounds, this machine is bigger and heavier than your average digital machine. However, the Singer S16 has no aspirations to be a computerized machine – it is made for precision stitching and delivers an astounding 1600 stitches per minute.
Material
The steel construction of this machine lends itself to stability and durability. In the S 16 Studio machine, the manufacturer has delivered a quality product that is consistent with their brand's reputation.
Where to Buy
Walmart.com has the Singer S16 Studio True Straight-Stitch Sewing Machine available at $799.99 with free shipping. Amazon is offering the best deal by far on this top-rated machine, at $542.26.
5
Janome MC-6300P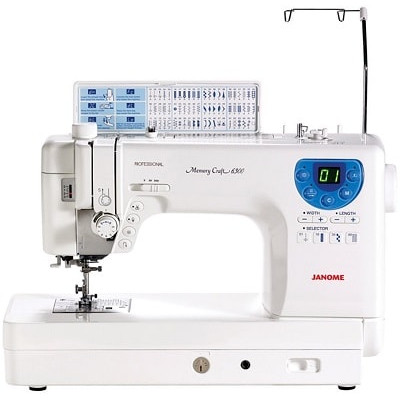 Pros:
The 9" x 5" throat space on this machine is perfect for accommodating quilting projects and combined with the extension table, your next quilting project will be a dream.
Cons
Several user reviews note that the beeping sound the machine makes when a button is pressed can be annoying. Unfortunately, the beeping cannot be turned off.
Shipping weight – 36.2 pounds.
1 x Janome Memory Craft 6300 Quilting Sewing Machine.
1 x Power Cable with Foot Controller.
1 x Knee Lifter.
1 x Extra-Large Extension Table.
1 x User's Manual.
13 x Presser Feet: Zig Zag Foot, Overedge Foot, Rolled Hem Foot, Zipper Foot, Satin Stitch Foot, Blind Hem Foot, Cording Foot, Overcasting Foot, Automatic Buttonhole Foot, Basting/Darning Foot, 1/4″ Seam Foot, Even Feed Foot, and Open Toe Satin Stitch Foot.
Q
Is this machine suitable for free-motion quilting?
A
Yes, it has drop feed capability which makes it possible to do stippling and free – motion quilting.
---
Q
Does this machine has the extra-slow speed feature for intricate sewing?
A
Yes, the 'turtle' speed feature in included.
---
Q
Does the Memory Craft 6300 have a free arm?
A
No, this is not a free arm machine.
Few professional standard quilting sewing machines are computerized, and that makes the Janome Memory Craft 6300 one of the best options for sewing enthusiasts. Plus, the price will make you smile almost as much as the many features it offers.
With 66 stitches and four automatic buttonhole options, there is very little that you can't do with this machine. It even has built-in block and script monogramming stitches. The Memory Craft 6300 has several innovative touches that are typical of this brand and the first of these is the automatic thread cutter with memory capability!
In fact, this machine has substantial memory capacity and can even remember which stitch you last used. A recent buying guide praised the inclusion of popular features like the speed control slider, digital width and length selection, a programmable needle and the tension adjustment dial.
Speaking of innovation, the LED display shows stitch settings just like other computerized machines do, but it also indicates low bobbin status. Although the drop in top-loading bobbin with transparent cover makes bobbin thread supply monitoring much easier, it is very useful to know that the LED screen has a backup alert in case you missed it.
Design
At 13 x 26 x 18 inches, the Memory Craft 6300 is not going anywhere while you sew. This is a welcome attribute in a machine that is designed for home use, and reviews agree that this machine consistently delivers professional performance.
Material
Janome is known as a top-rated manufacturer and it is hardly surprising that this versatile machine is made using premium quality materials. The plastic outer casing is ultra-durable and the steel components are made to exceed the 25 Year Limited Warranty term.
Where to Buy
The Janome Memory Craft 6300 sewing and quilting combo machine is available on eBay for $1556.99. However, Amazon remains unbeatable with an incredible offer of $1169.00 on this outstanding product.