Quick Comparison Table
| | BROTHER | BROTHER | SINGER | SINGER | BROTHER |
| --- | --- | --- | --- | --- | --- |
| | | | | | |
| Price | $ | $ | $ | $ | $ |
| Warranty | not specified | limited warranty | 25-year limited warranty. | 25-year limited warranty. | 25-year limited warranty. |
| Stiches | 67 built-in sewing stitches | 184 built-in sewing stitches | 30 built-In stitches | 215 built-in sewing stitches | 67 built-In stitches |
| Shipping Weight | 37.1 pounds | 39.24 pounds | 49.1 pounds | 54.6 pounds | 24.2 pounds |
| Amazon FREE Shipping | | | | | |
| | | | | | |
5 Top Rated Sewing & Embroidery Machines Reviews
1
Brother LB-6800PRW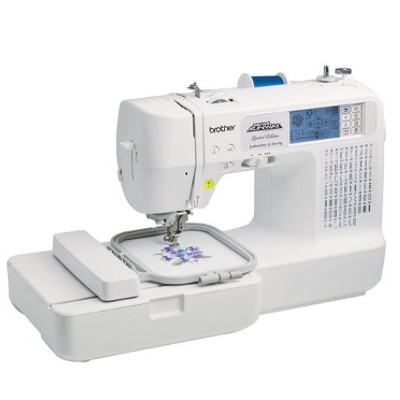 Pros:
The LED display is well-lit and makes stitch selection painless. It also offers on-screen help and stitch length and width adjustment, as well as mirror imaging. The needle is programmable and there is a twin needle facility.
Cons
One buying guide lamented the absence of on-screen editing, however, this amazing machine makes up for it in spades, and 80 % of users still rate it five stars.
Shipping weight – 37.1 pounds.
1 x Brother LB-6800PRW Project Runway Embroidery Sewing Machine.
1 x Power Cable with Foot Controller.
1 x Grand Slam Embroidery Package.
1 x Project Runway Custom Rolling Luggage Trolley.
Q
Is there a card slot in this machine?
A
Yes, a card slot is included.
---
Q
Does this machine come with the cable needed to connect to the computer?
A
Yes, it does.
---
Q
Is this sewing machine compatible with Apple Macs?
A
Yes, multiple user reviews testify to seamless compatibility.
The Brother LB-6800PRW Project Runway Computerized Embroidery Sewing Machine is, according to more than one buying guide, the best value beginner and intermediary embroidery machine you'll find.
With almost 150 stitches, including 10 one-step buttonholes and 5 fonts, this sewing machine is packed with awesome features to make sewing and embroidery a pleasure. The automatic needle threading and touch-of-a-button thread cutting functions are great time savers that eliminate two of sewing's most tedious tasks.
This delightful machine has a built-in USB port to facilitate connectivity between your computer and your Brother LB-6800PRW. This makes it easy to transfer embroidery designs without additional software. Embroidery designs in .pes format are widely available on the internet and with a 4" x 4" embroidery field size, you'll virtually have unlimited project options.
The LB-68000PRW comes with the awesome Grand Slam Embroidery Package that is valued at $1170! In addition, a Project Runway custom rolling luggage trolley is included for easy storage and transportation of your sewing machine.
Design
Relatively compact at 10.95″ x 6.89″ x 15.55″, the Brother LB-68000PRW weighs just 13.67 lbs. It is surprisingly nimble too, with the capacity to sew 710 utility stitches per minute and a staggering 400 embroidery stitches every minute.
The embroidery process is fully automated and it makes professional embroidery look so easy! This machine is designed to give users an awesome sewing experience, without stress and frustration.
Material
When a machine carries a 25 Year Limited Warranty, there is a good chance that it is top quality. Brother is known for top rated products and this incredible machine is manufactured using premium quality materials, for a long, productive lifespan.
Where to Buy
Neoculturetechnology.net has stock of the Brother LB-6800PRW Project Runway Computerized Embroidery Sewing Machine for $698.00. You are always a winner with Amazon, and they match this price of $698.00 but have also included FREE shipping while stocks last.
2
Brother SE1800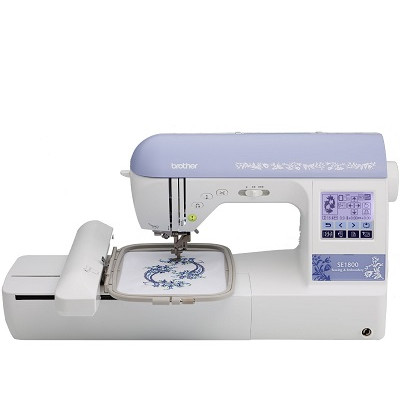 Pros:
Any buying guide worth its salt will tell you there are huge advantages to having a start/stop button. Especially during embroidery, as the process is automated and does not require you to control the operation from a foot controller. Another outstanding feature of this machine is the sideways sewing function which makes applique and cylindrical sewing very easy.
Cons
In a recent review, a user shared their disappointment that the LCD display is only black and white. Despite this, it clearly displays stitch selections and offers on-screen help in multiple languages.
Shipping weight – 39.24 pounds.
1 x Brother SE1800 sewing & embroidery machine.
1 x Power cable with a foot controller.
1 x Knee lifter.
2 x Multi-position embroidery hoops.
11 x Quick-change sewing feet.
1 x Embroidery foot.
1 x Generous accessories kit.
1 x Hard protective carry case (with outer storage compartment).
Q
Can you do straight sewing on this machine?
A
No, this machine is exclusively designed for embroidery.
---
Q
Does this machine come with Disney images?
A
No, they are not included. However, they can be purchased.
---
Q
Which file formats can be used when creating/ saving designs for this machine?
A
It reads .pes and .dts image formats.
If you have dreamed of owning an embroidery sewing machine that has unlimited creative possibilities, convenient features and is automated, then the Brother SE 1800 is for you. The price will give you something to smile about too.
Imagine all you could do with 184 sewing stitches, 10 buttonhole styles, 136 embroidery designs, and six embroidery lettering fonts. To help you achieve your wildest embroidery dreams, the SE1800 has an impressive embroidery field of 5×7 inches.
The advanced needle threading system will make thread color changes super quick. With the speed control slider you can also adjust sewing speed, up to a maximum of 750 stitches per minute. The seven feed dogs are retractable and combined with a 4.1' x 7.4" work space, the embroidery world is your oyster.
The quick-set top-load drop-in bobbin is jam-proof, so you'll never have bobbin blues with the Brother SE1800. To further enhance your creative prospects, this embroidery machine has built-in top rated 'My Custom Stitch' technology so that you can design your own designs. The built-in memory, USB port and memory card slot, mean that you can easily import and save your favorite custom designs for future use.
Design
The dimensions of the SE1800 are 13.43″ x 23.19″ x 11.54″. It weighs a hefty 22.02 lbs., but this is not surprising considering all the incredible features tucked into this great machine. It is beautifully designed with a white exterior and pale blue trim. The floral motifs add a lovely touch too.
Material
Brother is a brand associated with some of the best electronic appliances. Their standard of excellence is evidenced in the SE1800's construction. It has a durable plastic outer casing and is well finished. The internal mechanisms are precision engineered to deliver consistent, accurate results.
Where to Buy
Sewingmachinesplus.com is offering the Brother SE1800 Sewing & Embroidery Machine at $1199.95. However, Amazon has waived their magic wand to bring you this exceptional sewing machine at the best price of $1186.35.
3
Singer Futura XL-400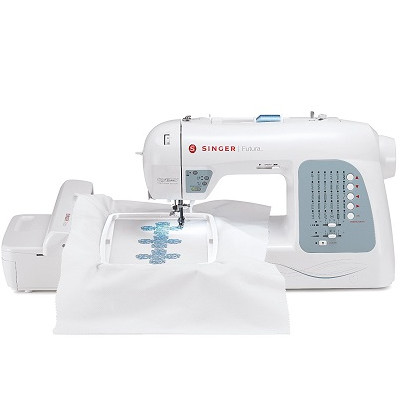 Pros:
The built-in tutorials are said to be very helpful in many reviews and another plus is that this machine will read a huge variety of design file formats, including FHE, XXX, JEF, CHE, HUS, PES, DST, SHV, PEC, EXP, VIP, PCS, PSW & SEW. Resizing of designs is enabled and letters can also be sized, shaped and rotated for professional, custom results.
Cons
Some reviews note that the hoops the machine is shipped with don't always fit. They report having to sand the hoops down slightly for best results.
Another remark that often crops up in a buying guide, is that the software is rudimentary and would benefit from an upgrade.
Shipping weight – 49.1 pounds.
1 x SINGER Futura XL-400 Computerized Sewing and Embroidery Machine.
1 x Power Cable with Foot Controller.
1 x USB Cable.
1 x Embroidery Software and Design CD.
6 x Presser feet – All-Purpose Foot, Zipper Foot, Buttonhole Foot with Underplate, Blind Hem Foot, Satin Stitch Foot, and Button Sewing Foot.
1 x Instruction Manual.
1 x Accessories Kit, Including Bobbins, Needles, Screwdrivers, Seam Ripper, Scissors and Lint Brush (and more.)
Q
Is this machine recommended for sewing names on shirts, towels, bags, etc.?
A
Most definitely.
---
Q
Can you purchase additional hoops for this machine?
A
Absolutely, however, your only restriction will be the size of the attachment.
---
Q
What does multi-hooping capability enable this machine to do?
A
Essentially, the machine can create an embroidery that exceeds the maximum size of the hoop, by sewing one section of the embroidery and then allowing the user to move the hoop to the next area which will then be sewed as per the design.
If you are looking for a digital sewing and embroidery combo machine at a reasonable price, look no further. Top rated manufacturer Singer, has clearly invested time and innovation in the design of the Futura XL400.
Singer's SWIFTSMART automatic threading system is included in the XL400. This, combined with the DROP and SEW Bobbin system make threading easier than ever. Six Staybright LED lights ensure that your projects are always very well-lit and the innovative long arm design easily accommodates bigger projects.
With the 10" x 6" Easy-On Design Hoop (with multi-hooping capability) you can create projects up to 12 x 20 inches in size. So, now you can even embroider larger projects like bedspreads, tablecloths, dresses and so much more. 30 Built-in sewing stitches, 2 fully automatic one-step buttonholes, 125 built-in embroidery designs and 5 fonts and outline lettering, leave you spoilt for choice when you unleash your creativity on your sewing projects.
Design
Weighing 23 pounds and with dimensions of 22 x 9.5 x 13 inches, the Futura XL400 is perfect for home use but delivers professional results. It is portable, durable and very likely to become one of your most-loved craft tools.
Material
Singer's heavy duty metal frames have always set them apart from other brands, and the XL400 is no different. It delivers skip-free, precision stitching and the durable white plastic outer casing is sleek and highly attractive with its blue decals.
Where to Buy
Joann.com lists the Singer XL400 at $699.99. However, Amazon has the best deal at $539.99.
4
Singer Futura XL-580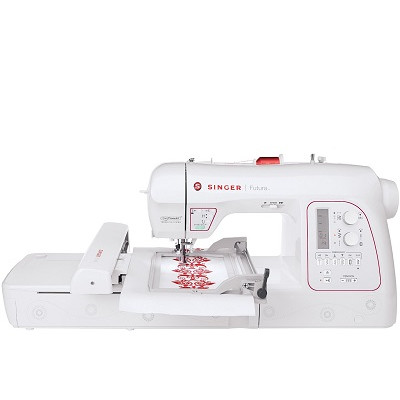 Pros:
Bonus software is included with the XL-580. The Auto Punch, Hyper Font and Advanced Editing Software programs will open a whole new world of embroidery design to you. Auto Punch enables you to convert clip art, logos, DIY designs and images into embroidery. You can also select custom colors, stitch types and angles.
Hyperfont Software converts all TrueType fonts on your PC into embroidery and allows custom selection of font sizes and styles. With the Advanced Editing software, you can edit existing embroidery designs. The XL-580 reads the following design file formats: FHE, XXX, JEF, CHE, HUS, PES, DST, SHV, PEC, EXP, VIP, PCS, PSW & SEW.
Cons
This machine is not suitable for beginners. Without exception, reviews agree that this machine takes time and dedication to master, but by all accounts, it is well worth the effort.
Shipping weight – 54.6 pounds.
1 x Singer XL-580 Futura Embroidery and Sewing Machine.
1 x Power Cable with a Foot Controller.
6 x Presser Feet.
1 x Package of Software Programs.
1 x USB Cable and USB Stick.
Q
Can this machine sew leather?
A
Yes, it has the capacity to sew garment weight leather, using a Singer Leather needle.
---
Q
Does the XL-580 Futura come with a cover?
A
No, however, covers can be purchased, or you can make your own as a first project.
---
A
Is a USB Stick included with this machine?
A
Yes.
Every buying guide worth its salt will tell you that the Singer XL-580 Futura embroidery sewing machine combo is the ultimate computerized machine for home use. This digital wonder machine will consistently deliver professional results.
Can you imagine having 215 sewing stitches, 250 embroidery designs, (including 50 endless designs), and six automatic one-step buttonholes (+ one endless buttonhole) at your disposal? To say that the possibilities are endless is an understatement because the XL-580 is all about possibilities.
For instance, the 6.75″ x 4″ Endless Hoop, with multi-hooping capability, enables you to create projects of up to 12 x 20 inches. Singer has included the convenient knee lifter for hands-free presser foot lifting and a USB Key for remote embroidery design. This allows embroidery design editing without being connected to the machine.
Other awesome features that are standard with this exceptional embroidery sewing machine, include an independent bobbin winding system, electronic thread trimmer, as well as the Swift Smart Advanced Threading System and Drop and Sew Bobbin System.
Design
Singer is arguably the best sewing machine manufacturer and the XL-580 epitomizes their design expertise with its well-rounded design. The white body's minimalist look belies the smorgasbord of features this machine offers. It is 21.5 x 9.5 x 13 inches in size and has an extra-large sewing space, in addition to a long arm design for larger, bulkier projects.
Material
The XL-580 Futura's construction is consistent with what one would expect from a top-rated brand and a product in this price category. It is made using premium materials and innovative technology.
Where to Buy
Joann.com stocks the Singer XL-580 Futura Embroidery Machine at $999.99. Amazon will make your embroidery dreams come true with the unbelievable price of $651.87.
5
Brother SE400
Pros:
The Brother SE400 has computer connectivity to import new designs. The software is capable of upgrades, so you will always have the latest functionality.
Cons
A reputable buying guide observed that choosing one of the 67 stitches is a tedious task with 12 screens to scroll through. Another complaint among users is that the sensitive built-in sensors require the bobbin case to be cleaned often.
Shipping weight – 24.2 pounds.
1 x Brother SE400 Computerized Sewing and Embroidery Machine.
8 x Quick Change Presser Feet – Buttonhole Foot, Overcasting Foot, Zipper Foot, Zigzag Foot, Button Fitting Foot, Free Motion Monogramming Foot, and Blind Stitch Foot.
1 x USB Cable.
1 x 4"x 4" Embroidery Hoop.
1 x Accessory Bag.
1 x Soft-Sided Machine Cover.
1 x Power Cable with Foot Controller.
Q
Is this machine's needle programmable?
A
Yes, it is, so you can select needle up or down position.
---
Q
Can the USB work from an Apple Mac?
A
Yes, no problem.
---
Q
Can the SE400 accommodate a 9" hoop?
A
Yes, and it's great for monogramming longer names.
According to well-respected reviews, the Brother SE400 Computerized embroidery sewing machine, is unequivocally the best sewing machine and embroidery combo available.
There are many stand-out features in the SE400, of which the backlit LCD Display with touch screen and stylus pen, is possibly the most exciting. It offers on-screen design editing and a helpful tutorial.
Other favorite features that are standard in more expensive machines are included too, like the one-touch stop/ start and reverse functions, as well as the automatic needle threader. Stitch width and length adjustment is quick and easy, as is speed adjustment via the slider on the front of the machine. Twin needle capability is also included.
This machine has 67 built-in sewing stitches (with 98 stitch functions), 70 built-in embroidery designs, 5 monogramming fonts and 120 frame pattern combinations. With such variety and professional capacity, you will be tempted you to abandon all your normal daily responsibilities to indulge your creative whims. To further tempt you, the long free arm and large flatbed make it possible to sew and embroider larger projects to your heart's content.
Design
Designed primarily for home use, this amazing digital machine is surprising in so many ways. Firstly, its dimensions are just 20.3 x 15 x 15.2 inches. At 10.9 pounds, it's hard to believe that such a lightweight, compact machine not only holds its own against other machines for sale in the same class, but it outshines them!
Material
This top-rated machine is a feather in the manufacturer's cap. It's difficult to understand how Brother manufactured such an awesome machine at such a low price. Especially since there is no compromise on the premium quality materials and finishes this brand is known for. The SE400 carries a 25-Year Limited Warranty.
Where to Buy
Joann.com has stock of the Brother SE400 Computerized Sewing and Embroidery Machine available at $399.99. However, no one can accuse Amazon of embellishing the price of the Brother SE400 at an unbelievable price of $310.00 while stocks last.